Oh my dear friends!
Are you ready for some love and magic?
Because I would like to introduce you to this amazing artisan chocolates from Lulu's Chocolate Love.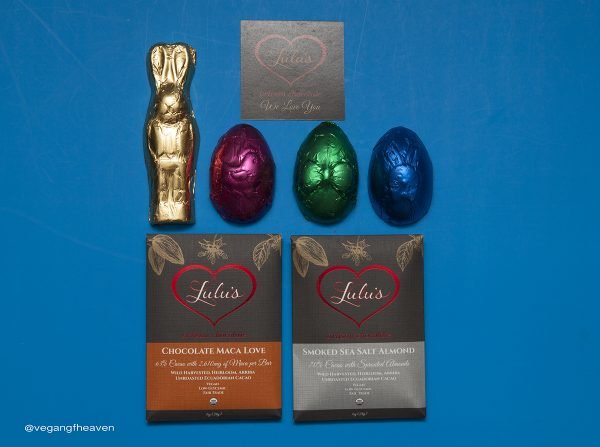 Not long ago I have reviewed some of their products, but today I would like to bring to your attention some more of their chocolate varieties.
Since Easter is approaching fast, I am sure you will be happy to learn, that Lulus' Chocolate Love offers Easter shaped chocolate bunnies and chocolate eggs. And yes, they are 100% organic, vegan, fair trade, paleo-friendly, soy & gluten free, raw & sweetened with low-glycemic coconut sugar.
They taste amazing. And they look incredibly cute. They are really made and packed with love. Each piece is like a masterpiece. I am not even exaggerating.
( Just look at the photos 🙂 ).
Lulu's Easter Chocolate Truffle Eggs have delicious, smooth filling. They come in three flavors: Cashew Crème, Hazelnut Chocolate Crème & Almond Cookie Dough. Don't ask me which is my favorite, because I  honestly loved them all. Plus look at the cute pictures on the top of each chocolate.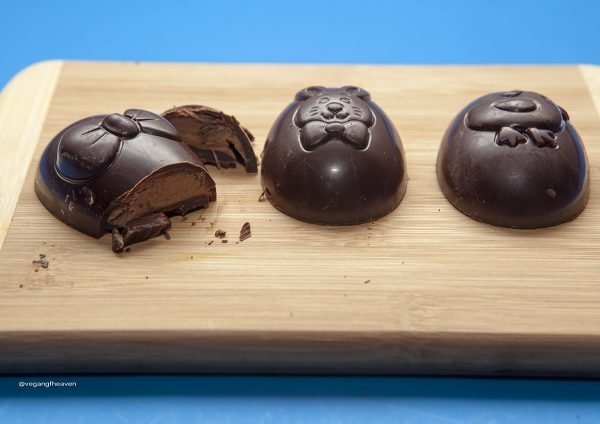 Easter Love Bunny is also delicious and rich.
There are many flavors and more shapes you can opt for. Delicious Chocolate Maca Love, Smoked Sea Salt Almond, Aztec Crunch, Midnight Velvet are only few options you can choose from. And even the names are picked with consideration and love!
Each flavor is unique and irresistible. Each chocolate piece is pure pleasure.
Lulu's Chocolate is sustainable company.
Their golden wrappers are 100% compostable NatureFlex, made from wood pulp. They make great kindling for your fire! Envelopes and boxes are 100% recycled / FSC paper printed with veggie inks. Beyond packaging, they practice sustainability in sourcing & manufacturing. Their product is HowGood Certified, meaning it meets very strict sustainability standards.
"We love our planet and know that each choice we make matters!"
There are so many reasons to love this company and help their business grow!
So please check their web site and order your chocolates today!
Lulu's Chocolate provided by  www.luluschocolatelove.com
General Rating: ★★★★★
* Disclaimer: The opinion expressed in the review is my own and honest viewpoint. I was not required to write a positive statement.