The best chicken-free strips on the market! I LOVE Chicken-less Stripes by Beyond Meat™! I think "love" it doesn't even describe how much …I LOVE those! I can finally enjoy chicken-less meat again! It is vegan and gluten free!
Beyond Meat™ is made of a blend of soy and pea protein, flours, and fiber. It doesn't contain animal products, but honestly you can't even tell you are not eating chicken. It tastes so delicious and so real. Well… It tastes even better than chicken! And it is animal free, cruelty free. Products are  safe for people living with Celiac and both Beyond Meat products and their facility is certified gluten free. They offer 3 flavors in their line: Lightly Seasoned, Grilled and Southwest Style.
The website informs that Beyond Meat™ is not organic, but they are completely non-GMO. The company was founded in 2009.
How can you enjoy those? Almost the same way you would normally use chicken. I tried it in many variations and it always tasted delicious. To be honest after I opened a package I started eating straight from it. It tastes great cold and hot. I put it in my salad and made it with fried rice and veggies. I even put it on top of my vegan/ gluten free pizza! Personally my favorite flavor is Grilled version but they all taste great! They are just amazing!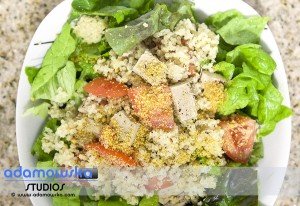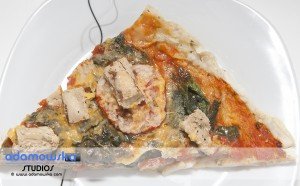 For recipe of this tasty salad , please click here.
One more think. Personally I wouldn't recommend to heat it up in the microwave. It changes the taste a little bit.
General rating: [rating=6]
Product provided by: www.beyondmeat.com
* Disclaimer: The opinion expressed in the review is my own and honest viewpoint. I was not required to write a positive statement.