I have always liked licorice. It wasn't hard to find vegan ones, but definitely bigger challenge to find vegan and gluten free licorice. I was happy when I discovered Candy Tree Licorice.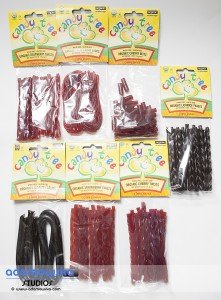 Candy Tree is a company based in Netherlands. It was founded in 1984 by two parents who were concerned with what their seven children were eating. They cooked up lollipops, toffees, licorice and hard candies – made with organic ingredients.
I learnt from their web site, that most of their products are gluten free. The production is strictly separated to prevent cross contamination, but that accidentally traces of gluten may accure. The products are also regularly tested to determine that they are indeed gluten free. Also the package (which is a little different than the one sold in Netherlands) informs: "This product is made with gluten free ingredients and equipment is thoroughly cleaned to avoid cross-contamination". Health Flavors is a distributor of their products in USA.
There are few shapes and flavors of Licorice: bites, laces and twists, cherry, raspberry, strawberry and black licorice. I personally liked all the red flavors, with strawberry flavor getting first place on my list and black licorice the last. (I honestly have never been a fan of black licorice).
It is a quite good tasting alternative to other licorice. They are not too sweet, and I have found them to be a right texture. The flavor is natural, but could be a little bit stronger. Strawberry is not strawberry tasting enough, cherry-not cherry tasting enough and raspberry-not enough of raspberry in it. It just needs a little bit more touch to it. But in general they are great candies. And the most important they are organic, gluten free, vegan and without chemicals and food coloring. You should try them next time you are shopping for healthy candies.
General rating: [rating=5]
Product provided by: Health Flavors! Distributor of health foods and natural products.
* Disclaimer: The opinion expressed in the review is my own and honest viewpoint. I was not required to write a positive statement.