Primal Spirit Foods send me  a package with their products: PRIMAL STRIPS® MEATLESS VEGAN JERKY. They come in few flavors and two of them are also gluten free: Texas BBQ and Hickory Smoked. The rest flavors are: Teriyaki, Thai Peanuts, Hot & Spicy, Mesquite Lime.
Primal Spirit Foods is a division of Primal Spirit Inc., a West Virginia Corporation founded in 2001.
Since I can't have gluten I was left to try two flavors.
I opened first the Texas BBQ Strip. The smell coming out from the package was quite strong. It smelled like ….. meat. It actually freaked me out. And it even freaked me out more, when I had my first bite after a few minutes of hesitation. What I experienced next was beyond the comprehension. I was convinced I was eating a real meat. But no… It wasn't real meat. It was soy meat.
It tastes so delicious and so real it really freaks you out! Another Texas BBQ strip i cut into smaller pieces and put into my salad. Great idea! Delicious! It really adds this pop to the salad.
Hickory Smoke– This was delicious too. Little more chewy, but still- great. I ate it alone as a snack, and cut in small pieces and put on my morning scrambled tofu. Excellent!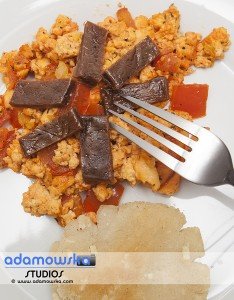 Too bad I could only have those two flavors. Those are so tasty and amazing! I only got one complain. Could they be much longer? 😉
My friend, who is vegan, tried the rest of flavors. (Lucky him). To no surprise he loved them all. He mostly ate them as a snack and said they were full of flavor, delicious and very fulfilling. I prepared fried rice and cut one of the strips into it for him. He loved it.  The other day I made for him also a salad with Primal Strip. Of course he enjoyed it as well.
This is definitly amazing product and I am sure not only vegan can enjoy it! Give it a try, and I can bet you will fall in love with Primal Strips, just like I did.
General rating: [rating=6]
Product provided by: www.primalspiritfoods.com
* Disclaimer: The opinion expressed in the review is my own and honest viewpoint. I was not required to write a positive statement.