It has been a while since I tried a new brand of vegan chocolates. When Chomp! Chocolate sent me their samples, I got excited.
Just look at their fun, colorful packaging. Adorable. (Check my unboxing video, where I couldn't resist but animate the character- Chompie. )
Chomp! Chocolate offers:
Original Vegan Cashew Milk Chocolate Bars
Popstar Bars: Creamy tiger nut chocolate with rice puff crunchies
Nutpucks: peanut butter cups. (Two per pack)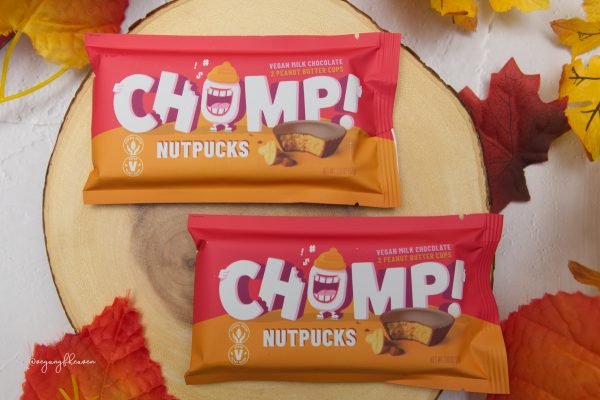 Chomp! Chocolates are vegan, ethical, sustainable. They are sourcing their Cacao via fair-trade or direct-trade. They use coconut, cashew, and peanuts in their products.
The chocolates are smooth, creamy, and rich. They melt just right.
Each chocolate brought a different experience.
The original bar contains cashews. It is pretty close to milk chocolate, but at the same time, it has original flavor. There is a sharper note of cocoa than what you would expect in milk chocolate. It is more of the milk/dark chocolate spectrum.
Popstar bar contains rice puffs, and therefore the chocolate bar is crunchy. It is made of coconuts. I liked the crunch, and I think the chocolate works well with rice puffs.
My favorite Nutpucks: peanut butter cups– are rich, creamy, smooth, and delicious. The size of each cup is pretty generous. There are 2 cups in one package. And they are close to perfection. In my opinion, those are some of the best vegan PB cups that resemble Reese's cups very closely.
Right now Chops! Chocolates are only available online. They are working on Chomp! Retail and Factory, and planning Grand Opening for October 15th, 2021. If you are in Salem, Oregon, check them out.
Thank you, Ben, from Chomp! Chocolate for samples!
I hope to see the products in every retail store near me soon. 🙂
General rating: ★★★★★
Product provided by: https://chompchocolate.com
* Disclaimer: The opinion expressed in the review is my own and honest viewpoint. I was not required to write a positive statement.