Easy, quick quinoa salad.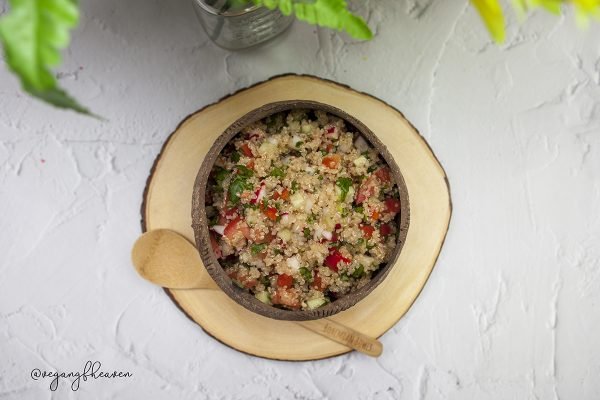 Ingredients:
½ cup quinoa, cooked and cooled
1  diced cucumber  (about 1 cup)
2 diced  tomatoes (about 1 cup )
scallion
radish (optional)
bell pepper (optional)
salt, pepper
cilantro
Instructions:
Cook the quinoa according to package directions in salted water.
Toss the diced cucumber, radish, bell pepper, diced tomato, and sliced scallion in a bowl and add salt and pepper
When the quinoa is cooled add it to the rest of the ingredients
Let the salad sit for 10-20 minutes to let the flavors meld together before serving.
If you desire you can add dressing, olive oil or make your own mixture to add to the salad. F.ex. with chopped parsley.
But salad is quite moist as it is.
Enjoy!