Page Street Publishing was so kind to gift me yet another inspiring vegan cookbook.
This one is called The Traveling Vegan Cookbook by Kristen Kaminski.
Kristen is known for her social media presence under The Tasty K.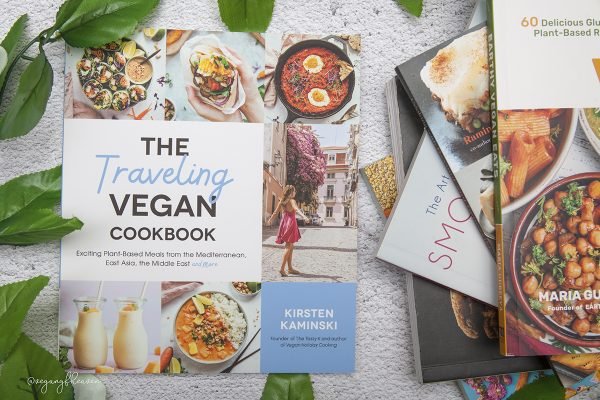 The book looks incredible and fun. It was inspired by the author's years of travels. The publication is filled with great tips on vegan traveling, beautiful photography, and of course, many great vegan recipes. You will find recipes from The Mediterranean, The Middle East, Asia, and Latin America.
(Note to those who can't eat gluten: The recipes don't give gluten-free substitution options, so you would need to experiment here. )

Some dishes are complicated, but there are plenty of simple and quick options. From salads, dip, and dragon rolls to lasagna, creme Brulee, pad thai, you can find those recipes in the book. Some dishes are exotic to me, and I am familiar with others. But they all sound fascinating and delicious. I am ready to try new recipes for sure. Imagine serving vegan Kunefe or baba ganoush at your next gathering. I am sure your guests will be impressed.
The publisher was kind to let me share a recipe from the book with my readers.
Here I present you the recipe for ZA'ATAR ROASTED CAULIFLOWER.

ZA'ATAR ROASTED CAULIFLOWER
The hot foodie trend of roasting the whole cauliflower started in Israel before many variations spread worldwide. Seems simple, tastes incredible! You'll never underestimate cauliflower again after biting into a soft but crispy piece. This za'atar roasted version elevates the dish to another level, adding some exciting spices and flavors.
SERVES 2 TO 3
1 medium head cauliflower
2 tbsp (30 ml) extra-virgin olive oil
½ tsp coarse salt
1 tsp za'atar (see Note)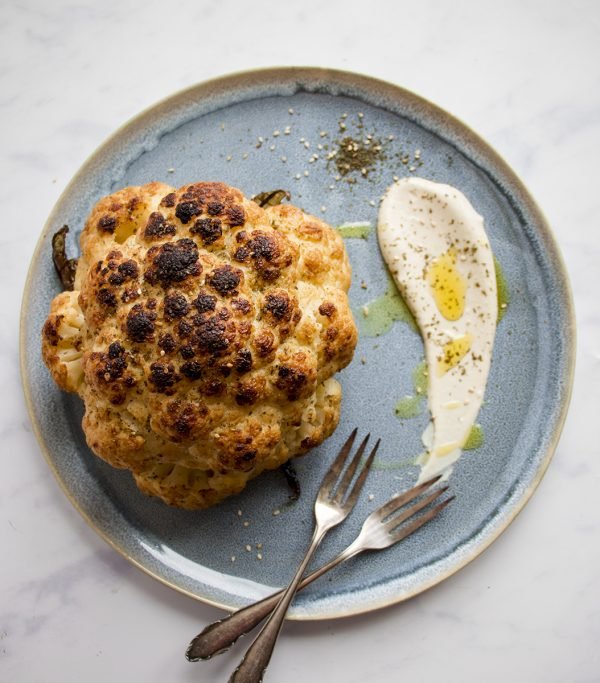 Preheat the oven to 450°F (230°C). Line a baking sheet with parchment paper.
Wash the cauliflower and take off the leaves. Cut out three-quarters of the stem and core, leaving just enough so the cauliflower stands upright. Fill a large pot with enough water to cover the whole cauliflower, place it over high heat and bring to a boil. When the water is boiling, carefully add the cauliflower and cook for 5 to 7 minutes (5 minutes if the cauliflower is smaller, 7 minutes if it is bigger).
Use a pair of tongs to carefully remove the cauliflower from the pot. Let it drain for a few seconds, and then place its stem down on the baking sheet. Brush with olive oil, sprinkle with salt and za'atar, and roast for 25 to 30 minutes, until it's soft on the inside and crispy (but not too burnt) on the outside. Stick a fork into the stem to check if it's done. If it's not well browned, put the cauliflower under the broiler for about 5 minutes. Let it cool down a bit before serving.
NOTE: Za'atar is a dried spice mixture that typically includes oregano, thyme, and sometimes other herbs, along with toasted sesame seeds, dried sumac, often salt, as well as other spices. You can find it in any Turkish or Arab grocery store or online.
Enjoy!
The book is available wherever books are sold.
General rating: ★★★★★
Thank you Page Street Publishing Co. for a review copy.
* Disclaimer: The opinion expressed in the review is my own and honest viewpoint. I was not required to write a positive statement.