I am always very excited when I find a vegan cookbook that offers all the recipes in a gluten-free version. It makes life so much easier. No need to look for a substitution. No more wondering if the recipe will work.
The solution and problem solver is here: "Earthy Vegan Eats. 60 Delicious Gluten-Free Plant-Based Recipes" by Maria Gureeva. I have received the book from Page Street Publishing in exchange for a review. Thank you.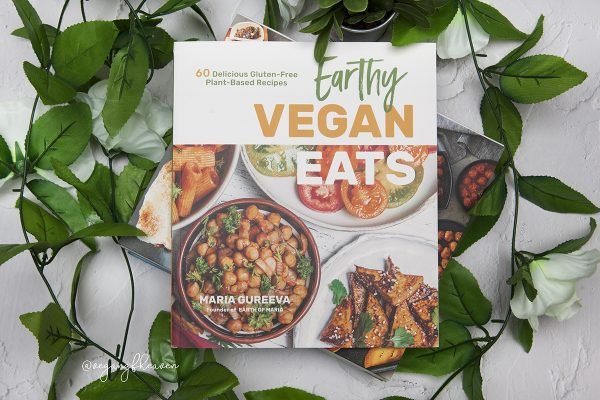 This cookbook offers quick, balanced recipes full of flavor and nutrition.
It is divided into five parts: Breakfast in Bed, Healthier Comfort Food Deluxe, Sides and Nibbles, For the Sweet Tooth, and Vegan Basics with a Twist.
You will also find helpful tips for stressless cooking, as well as directions on how to spice up your meal or how to mix gluten-free flours.
The recipes included in the cookbook are from known and simple to little more complicated and deluxe versions. You can start your day with earl grey Chia Pudding, Simple Waffles (with your choice of toppings), or Chickpea Egg Muffins.
Are you craving dumplings for lunch? Try Creamy Dumpling and Butter Stew. Would you prefer soup? How does Sweet Potato and Jackfruit Coconut Soup sound to you? There are also recipes for salads, side dishes, entrees. And don't worry if you are craving a dessert. You will find recipes for cookies, cakes, pies, muffins, bars, and so much more.
The publisher and the author were so nice to let me share a full recipe with you. You have a chance to make and try delicious Pesto-Stuffed Crispy Potato Cakes. I made them, and they were fantastic.
PESTO-STUFFED CRISPY POTATO CAKES
Pancakes for dinner? Yes please! These potato cakes are healthier comfort food, given that they are made entirely from wholesome ingredients, including a generous serving of greens in the pesto! Freeze any leftovers or store them in the fridge to enjoy for breakfast the next morning.
MAKES 6 POTATO CAKES
POTATO DOUGH
1 lb (454 g) russet potatoes
1 tsp salt
2 tbsp (15 g) tapioca flour
PESTO FILLING
½ cup (15 g) spinach
⅓ cup (20 g) fresh parsley
2 cloves garlic, peeled
2 tbsp (30 ml) lemon juice
½ tsp salt
2 tbsp (30 ml) olive oil
¼ cup (34 g) macadamia nuts
FOR FRYING
2 tbsp (30 ml) olive oil
To make the dough: Boil the potatoes with the skin on for around 30 to 35 minutes, or until cooked through. The cooking time will depend on the size of the potatoes.
To make the pesto: Add the spinach, parsley, garlic, lemon juice, salt, olive oil, and macadamia nuts to a blender or food processor. Blend until smooth.
Drain and rinse the potatoes, peeling them once they cool down. Transfer to a large mixing bowl and mash using a potato masher. Then, add the salt and tapioca flour, and use your hands to form a dough.
Divide the dough into 12 evenly sized chunks, using around ¼ cup (60 g) of the batter for each one. Use your hands to flatten down each chunk, adding around 2 tablespoons (25 g) of the filling into the center and spreading it out using a spoon. Flatten down another dough chunk and place it on top, sealing around the edges.
Heat 2 tablespoons (30 ml) of olive oil in a frying pan. Cook the potato cakes for 7 to 8 minutes on each side, until crispy and lightly browned, making sure not to overcrowd the pan. Serve immediately on their own or with a side of your choice.
The book is available wherever books are sold.
General rating: ★★★★★
Thank you Page Street Publishing Co. for a review copy of this book.
* Disclaimer: The opinion expressed in the review is my own and honest viewpoint. I was not required to write a positive statement.