Are you in need of inspiration? Look no further. "Cooking with Beyond and Impossible Meat" by Ramin Geneshram has you covered.
60 Vegan Recipes included in this book are inspired by meat alternatives. By using the Beyond Meat or Impossible Meat brand, you can make an excellent Plant-Based dish. You can also use other meat alternatives, f.ex. Trader Joe's and other brands.
The idea is to create a dish using plant-based substitutions. If you are gluten intolerant or have Celiac and need to avoid gluten, please read the product label before choosing the meat alternative.
This cookbook contains recipes from around the world. From appetizers, soups to main dishes, there are a variety of recipes for every occasion and mood. Chapters include recipes for American, Latino-Caribbean, Eastern (Asia and India) and Italian, The Middle East, and African flavors.
You will find a recipe for Classic Chili, Enchiladas, Samosas, Wonton Soup, Pasta Bolognese, and so much more.
The recipes are accompanied by a short introduction. Most recipes also showcase the dish in beautiful photographs.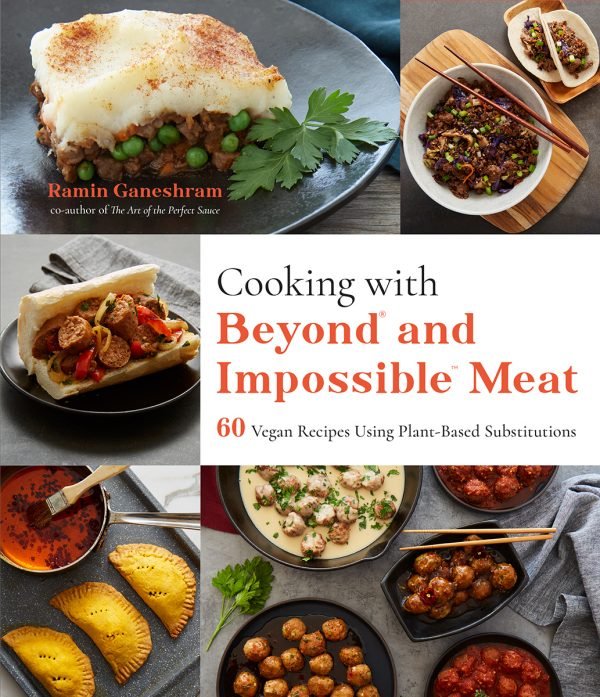 This cookbook will spark your creativity in the kitchen. It will help you prepare vegan meals that awe your guests. The recipes are easy to follow. There are also many substitutes for gluten-free versions of ingredients, so it shouldn't be much of the trouble to make most of the dishes.
To satisfy your curiosity, I am sharing here a recipe for Shepherd's Pie. The recipe is reprinted with permission from Cooking with Beyond and Impossible Meat by Ramin Ganeshram, Page Street Publishing Co. 2021. Photo credit: Toni Zernick.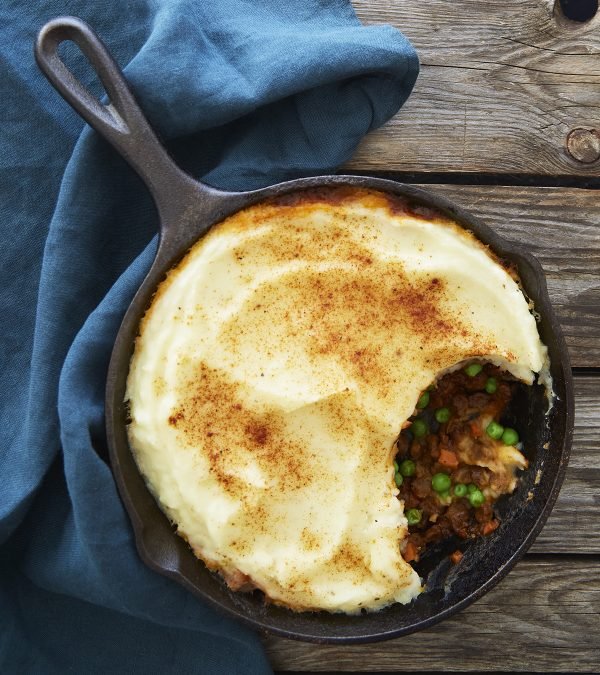 SHEPHERD'S PIE
This classic Irish recipe is a hearty one-dish meal than can be made ahead to be rewarmed in the oven just before serving. I like to use Beyond Beef® Crumbles because they have the texture to stand up to multiple rounds of cooking: frying, simmering and baking. The key to the fluffiest mashed potatoes is to put them through a potato ricer or food mill, if possible. Fresh peas are preferable in this recipe because they retain their bite and flavor, but frozen peas will work in a pinch.
SERVES 4 to 6
For the MASHED POTATOES
1 tsp salt, plus more to taste
3 large russet potatoes, peeled
2 tsp (10 g) butter or vegan butter
¼ cup (60 ml) unsweetened milk or plant-based milk
Freshly ground pepper to taste
For the FILLING
1 tbsp (15 ml) olive oil
1 small carrot, peeled, trimmed and diced small
1 small onion, minced
½ lb (227 g) cremini mushrooms, diced small
1 clove garlic, minced
1 lb (454 g) Beyond Beef® Crumbles
1 tsp tomato paste
1 tsp pimento
½ tsp ground cumin
¼ tsp allspice
2 tsp (10 ml) Worcestershire sauce
½ cup (120 ml) vegetable stock
¼ cup (60 ml) Guinness®
1/3cup (48 g) fresh peas
Salt to taste
Freshly ground pepper to taste
Paprika, for garnish
Make the mashed potatoes: Bring 4 cups (960 ml) of water and 1 teaspoon of salt to a boil in a large saucepan and add the potatoes. Lower to a simmer and cook until the potatoes are fork-tender, 20 to 25 minutes. Drain the potatoes, reserving about ¼ cup (60 ml) of the boiling water.
Using a potato ricer or food mill, rice the potatoes into the pot with the remaining cooking water. Add the butter and mix well, until melted. Add the milk and salt and pepper to taste and place over low heat. Mix vigorously with a wooden spoon until the potatoes are smooth and creamy. Set aside.
Make the filling: Heat the olive oil in a large, deep frying pan or Dutch oven and add the carrot. Cook for 6 to 7 minutes, or until the carrot begins to brown, then add the onion. Cook for 5 to 6 minutes, or until the onion begins to soften and become translucent, then add the mushrooms and fry until lightly brown, 4 to 5 minutes. Add the garlic and fry 1 minute more.
Add the alternative meat and break it up using a wooden spoon. Brown the crumbles, mixing well with the other ingredients. Stir in the tomato paste, pimenton, cumin and allspice and cook for 1 to 2 minutes, stirring. Add the Worcestershire sauce, vegetable stock and stout and mix well. Simmer until the mixture is reduced by one-third, about 5 minutes, and then stir in the peas. Season with salt and pepper to taste and mix well.
Preheat the oven to 350°F (177°C). Pour the meat mixture into an 8 x 8–inch (20 x 20–cm) casserole or Pyrex® dish. Scrape the mashed potato topping over it, smoothing over the entire surface of the filling mixture with the back of the spoon or with a tiny offset spatula. Sprinkle the top with paprika.
Bake the shepherd's pie for 15 minutes, or until the edges of the potatoes begin to lightly brown. Alternatively, you may cover the casserole with tinfoil and refrigerate overnight before baking and serving. Serve hot.
The book is available wherever books are sold.
General rating: ★★★★★
Thank you Page Street Publishing Co. for a review copy of this book.
* Disclaimer: The opinion expressed in the review is my own and honest viewpoint. I was not required to write a positive statement.