Cousin Mary Jane send me few items to review. In the box was Vegan/ Gluten Free Flap Jack Mix, Galax Seed Energy Mix Bar, Toasted Hemp Seeds with Sea Salt, Hemp Hearts.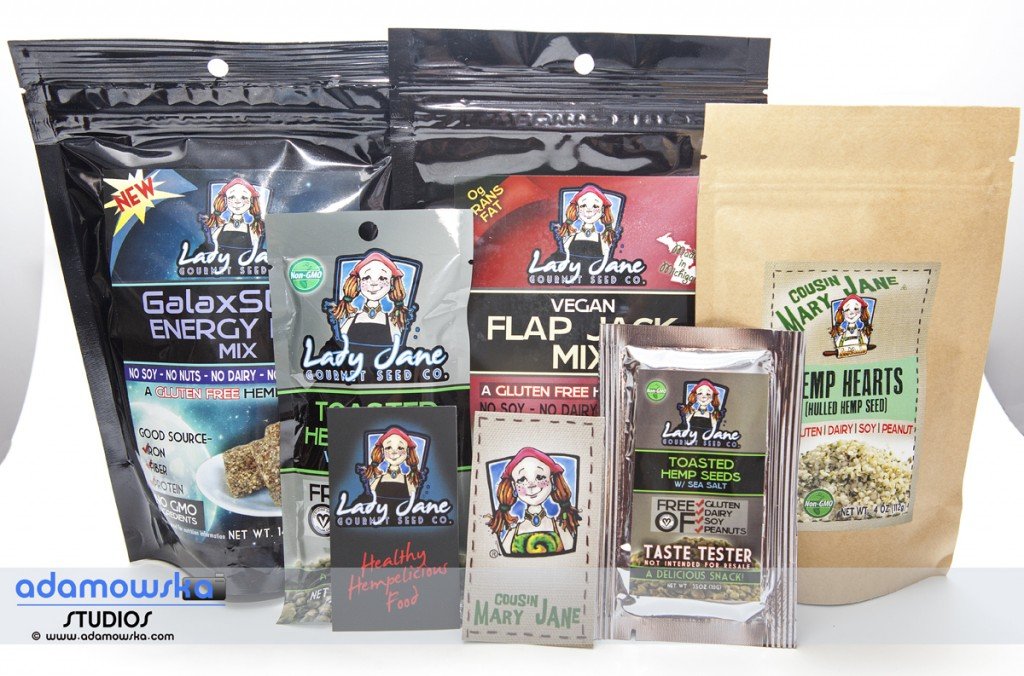 Vegan Flap Jack Mix– This is really healthy option for pancakes. They don't exactly taste like pancakes but instructions how to make them are similar. Add milk to the contest of bag and mix. After 5min pour on hot frying pan. The color of batter is green and it does look different than regular pancake batter. After you make them they are darker as well than regular pancakes. But they taste good, even though quite different. You can enjoy them just the same way you enjoy your regular pancakes. Pour a maple syrup, or butter and jelly. I made 6 Flap Jakc's from the bag. INGREDIENTS: Hemp Flour, White Rice Flour, Brown Rice Flour, Sorghum Flour, Hemp Seeds, Ground Flax Meal, Organic Cane Sugar (Just a touch! I'm not big on sugar, but we needed a small amount to help the cakes brown when cooked), Potato Starch, Aluminum Free Baking Powder (calcium acid pyrophosphate, cornstarch from non-gmo corn, sodium bicarbonate, potassium bicarbonate, monocalcium), Baking Soda, Sea Salt.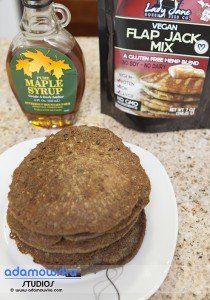 Galax Seed Energy Mix Bar– This mix is simple to make and contains a lot of nice seeds. The problem is that toasted hemp seeds (or maybe chia seeds) make it tastes like you eat sand. The instruction tells to just add 1/2 cup of your favorite sweetener. I added agave and little bit of maple syrup. If I knew it will taste so sweet and kind of like a sand I would add less agave and add raisins or dried cherries. They would give really nice balance to it. And maybe toasted hemp seeds wouldn't be so noticeable. It is great idea to make healthy bars with all the great ingredients, I just think the recipe needs a little bit more of polishing, and maybe some ingredients should be replaced, or removed from the mix. At this moment I didn't like those that much, but I am sure that I would make them often if the toasted hemp seeds weren't that noticeable in the mix.
I love hemp seeds but unfortunately Toasted Hemp Seeds with Salt didn't hit my spot. They are crunchy, but too hard for me. I didn't like the way it gives me a feeling of eating sand. Maybe they were toasted too long, maybe they are just better hulled. I will just stick with hulled version.
Hemp Hearts – Humped Hemp Seeds– I love hulled hemp seeds so I did love those. They remind me of nuts. I love  them in my vegan yogurt and on salads. I even tried them on ice cream since they have nutty flavor. Those I just love.
Little bit about the brand:
The company is working right now toward branding 2 names for their hemp food products. Their Cousin Mary Jane is the 100% hemp food line. (Products include f.ex: toasted hemp seeds, hemp flour, hemp oil, hemp powder, even clothing and fabrics protected from sun). And their Lady Jane Gourmet Seed Co. brand which is 100% hemp products plus products that are blended with hemp seed (hemp is the main ingredient). Products in this line are f.ex. meal bar mixes, pancake mixes.
Cousin Mary Jane and Lady Jane Gourmet Seed Co are focused on bringing healthy hempelicious foods into customers daily diet.
General rating: [rating=4]
Product provided by: www.cousinmaryjane.com
* Disclaimer: The opinion expressed in the review is my own and honest viewpoint. I was not required to write a positive statement.