If you LOVE coconuts as much as I do, you will love Dang Coconut Chips. When I saw them my first thought was what a great idea. But of course you need to try something in order to know if great idea goes with a great taste.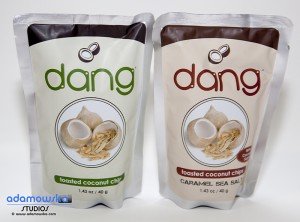 First, the package is just inviting potential buyer to grab it from the shelf and just get it and try it. Nice, need design, easy to open bag. And when you open it… o my… this smell of coconuts… mmmmmm…..
First I have tried Toasted Coconut Chips. Little crunchy, but so delicious and so rich with coconut taste. I snacked them straight from the bag. In the morning I decided to add some of them to my cereal. For lunch I put them in my salad. (Yes, it was a great combination. Salad, and raisins, and almond chips!). I tried them in my vegan yogurt. yummy! I am going to use them in some baking goods too. They are awesome! And what is the most important for me- they are Vegan, Gluten Free, Non-GMO! They are also dairy free.
Caramel coconut chips with coconut sugar are little more sweet. But to be honest I personally didn't notice that much of the difference. The second flavour is a mix of salt and sugar but again coconut  is the most distinguished among those ingredients.  Caramel Sea Salt Chips will be great if you craving something sweet, but you still want to have a healthy snack.
Dang Chips are made from copra– meat of the coconut, seasoned with pinch of salt and sugar and toasted. This delicious snack provides loads of energy, since copra is high in fiber.
I wish this family company much success because they really deserve it. Next time you are in the store, grab a bag of Dang chips and experience the wonderful taste! They are worth it!
Dan Coconuts Chips provided by www.dangfoods.com
[rating=6]
* Disclaimer: The opinion expressed in the review is my own and honest viewpoint. I was not required to write a positive statement.