Probably I should take a deep breath, get myself some calming tea and try to relax right now. But how can I relax when my doctor apparently has no idea what she is doing with me. I am doubting now if she is a doctor. I went for my lab tests results today. I was tested if I have a DNA that is responsible for celiac. Last time they messed it up. They took my blood and after 3 months (yes,that is how long I have been waiting for the next appointment) I got informed that the test couldn't be processed because my blood was put in the wrong glass tube. So nobody called me to just tell me to come back and do it again? Ok. They took my blood again back then. Again 3 months later. I am coming to my appointment. What is my doctor telling me?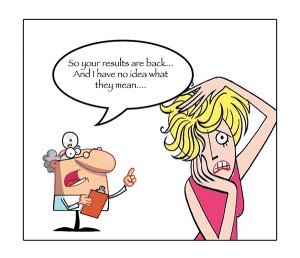 "The results are back. But I don't know what the results mean!" Are you for real???!!! Should I know what the results mean? Did I go to the medical school? Am I a doctor? Why do I feel I know more about my disease than she does? Doctor told me she will call me when she finds out what the results mean. I asked to print it out for me. Of course the computer didn't let her. So she will call me… oh.. but wait! I don't have a phone for past 2 weeks. After it got drenched in the vinegar (true story), I bought new one online. But my phone got lost in the transit!  Post office promised to solve the problem. Well.. maybe by the time my doctor will find out what my tests mean I will have my phone back and I will call her instead. I am sure she will forget to do so….
Welcome to "wonderful" Health Care in America!