Ladies and gentlemen! Let me introduce you to amazing, delicious and nutritional RICKAROONS! That's right. Not macaroons, but RICKAROONS!
Rick- the founder and creator of this new delicacy, came out with the idea after years of experimenting in the kitchen to make a cookie for his wife with serious health challenges. Rickaroons are effect of Rick's love for his wife.
The company offers now 4 flavors: Chocolate Blonde,  Brunette, Megaroon, Mocha.
When I received today the box with Rickaroons I was quite excited. It is really hard to find decent snack that is gluten free and vegan at the same time, but also organic. Most of the food is so processed that you still feel sick eating it. I was missing macaroons and I didn't find a recipe yet that would satisfy my gluten free/vegan taste. But today everything changed. Rickaroons really rock!
I started my testing with Brunette. One bite and I knew I am in love. (I think Rick and his company really puts a lot of love to each of the Rickaroon). Crunchy on the outside, chewy in the middle. It is moist, soft and full of coconuts and chocolate. Not too sweet but just right. Each bite is like… heaven… So delicious. So tasty. Just perfect.
Mocha Rickaroons are also delicious. If you love coffee, you will love the fact that you can find espresso beans in each Mocha Rickaroon.
Chocolate Blonde- with coconut, almond butter, and chocolate chips is perfect for anybody with sweet tooth.  It is ideal  combination. It is light and delicious.
Megaroon is a superfood version of Rickaroon. It contains chia seeds and cacao nibs. As you may, or may not know- the nutritional benefits of chia include fiber, omega fatty acids, calcium, antioxidants. Cacao nibs contain: antioxidants, magnesium,chromium, Vitamin C. This is super Rickaroon. Again: moist, soft and delicious.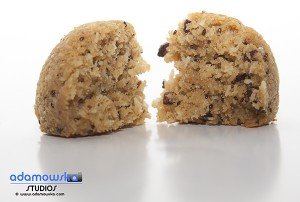 Believe me you will have a really hard time to pick up your favorite Rickaroon. They are all so delightful. So perfect. And this is not only coming from me. I let my friends to try them too. They all loved it. And they agreed Rickaroons are better than the one made with egg whites.
Thank you Rick and the company for this product! I hope we will see it on the shelves in every store soon!
A note for my fellow celiacs: when I asked if the product is baked in gluten free facility this is the response I received: "The commercial bakery we use is not currently a dedicated gluten free facility, but it does have a gluten free certification." I personally had no problem with Rickaroons, and didn't have any bad reaction after eating them.
Rickaroons provided by www.rickaroons.com
SPECIAL OFFER:
[rating=6]
* Disclaimer: The opinion expressed in the review is my own and honest viewpoint. I was not required to write a positive statement.