I have found this brand called "Enjoy Life". They make all kind of cookies, granola, bars. They are free of 8 most common allergens. They are free of: wheat (therefore gluten free), dairy, peanuts, tree nuts, egg, soy, fish,shellfish.
So far I have tried: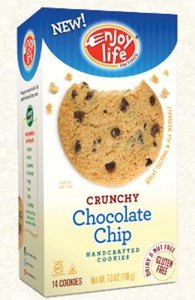 1) Crunchy Chocolate Chip cookies. They are..crunchy.. 😉 They taste quite good,just I personally prefer soft chocolate chip cookies. But overall they are ok.
[rating=3]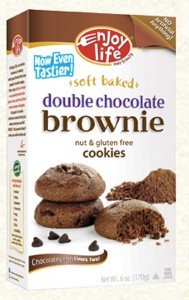 2) Double Chocolate Brownie– soft cookie. Heaven! So delicious. They melt in your mouth. They are delicious. They are just perfect.
[rating=6]

3) Sunbutter Crunch chewy bars. They don't belong to my favorable ones. They are made of sunflower seed butter, they are crunchy but also chewy at the same time. I like sunflower seeds but  this combination doesn't work well for my taste.
[rating=2]

4) Coca Loco Chewy Bars. They are chocolaty and remind little bit of brownies. They are chewy and soft.
[rating=3]
* Disclaimer: The opinion expressed in the review is my own and honest viewpoint. I was not required to write a positive statement.