I do agree that Food Should Taste Good, but it also should be healthy. And by healthy I mean no animal ingredients and no GMO ingredients. The company Food Should Taste good send me their chips to try. And I have to admit-those chips do taste good. They are very tasty and crunchy and everything you would like from chips-they are IT.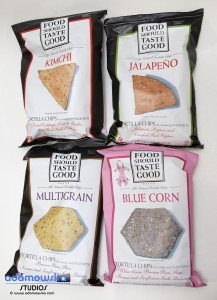 Farther more many options are made only from plant ingredients and they are natural. The package doesn't hold the sign "Non-Gmo Project" yet, but "While their products undergo the verification process, they have chosen to update their packaging to reflect their ongoing commitment to using ingredients made without the use of genetic engineering (GMOs) . Be on the lookout for their new bags, which have started hitting store shelves and proudly call out that their chips are "Not Made With Genetically Engineered Ingredients."
How awesome is that? Tasty and healthy in one big bag!
The flavors I have tasted were all gluten free and vegan, but not all of them said "not made of GMO". Regardless I have to say that those chips are really amazing.
KIMCHI- Tortilla Chips made with dried cabbage, onion, garlic and red bell pepper. Those are on the spicy side. Crunchy and delicious. I liked the idea of putting dried cabbage into them. They do really taste great.
JALAPENO- made of Jalapeño pepper and crushed red pepper. They weren't that spicy as I thought they would be but they were amazing. Loved those.
MULTIGRAIN- made of brown rice, flax seed, sunflower and sesame seeds and quinoa. Also delicious.
BLUE CORN- made of blue corn, brown rice, flax seeds, sesame seeds, and sunflower seeds and quinoa.
I tried all of the chips alone and with guacamole and with salsa. Each time they tasted great. They are great for parties and they are awesome snack for adults and kids. They taste wonderful. I can't really say which one is my favorite because I like  them all. I know I will be buying them and I will definitely try their other flavors.
General rating: [rating=6]
Product provided by: www.foodshouldtastegood.com
* Disclaimer: The opinion expressed in the review is my own and honest viewpoint. I was not required to write a positive statement.