If you are new to Veganism, there are many resources that can help you out. The same if it comes to gluten. It gets more complicated when you are vegan who has to stay away from gluten. This is why I have decided to start this blog. On my site you can find resources page and check web sites and books that I like and recommend.
Today I would like just to tell you about few books that are really great and helpful.
"The Complete Guide to Vegan Food Substitutions" by Celine Steel and Joni Marie Newman.
The book helps you to find substitutes for animal products but also how to substitute gluten or soy. It includes many vegan recipes and some are even gluten free. The book teaches and shows you that they are ways to substitute cheese, animal milk or eggs and meat. It will help you on your journey and make cooking easier and more pleasant.
The other book that I really like and use quite often while baking is "Flying Apron's Gluten free and Vegan Baking Book" by Jennifer Katzinger.
It got a lot of recipes and a lot of pictures of the dishes. For me it is important to see what the dish may look like before I make it. There are not only baking recipes but also recipes how to make breads, soups,salads etc.
This book will make your life much easier, if you are newbie to vegan/gluten free cooking and baking.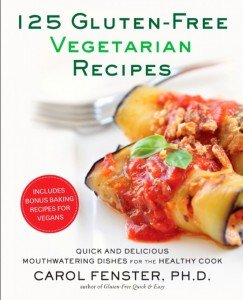 One more book that is worth to check is: "125 gluten free vegetarian recipes" by Carol fester, PH.D. All those vegetarian recipes can be easily substitute with vegan ingredients. The recipes are healthy often quite fancy. They are not difficult to make and they are healthy and delicious.