'Tis the season…
I put together a little guide for vegans. Maybe you are vegan or maybe your friends are vegan, and you wonder, what should you get them? What do vegans want and need? 😉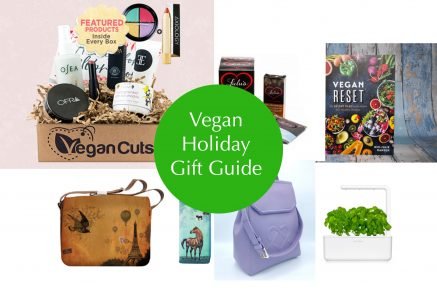 Read on, and I hope that you will find something awesome for your vegan person in your life.
Stocking stuffers ideas:
VegNews Subscription magazine. 🙂 Believe me, this magazine will make every Vegan happy. You just can't go wrong here. VegNews has a lot of interesting articles, vegan news, recipes and recommendations. It is simply awesome.

Image courtesy of VegNews.

Milk Makeup Products– They are vegan and cruelty free. Remember, when shopping for vegans it is important to check those facts. I personally tried this brand and I fall in love with their products. I am sure your vegan girlfriend will love it too. 
Gift Card to Health Food Store, f.ex. WholeFoods, so your lovely vegan can stock up on Daiya Foods products or Follow Your Heart products. Plus whatever  else they are craving for.
Vegan sweets: They can either go inside the stocking stuffer or you can buy big basket to put under the Christmas Tree (or as a Hanukkah present). You can buy just few small items, or go big. My recommendations here are: Lulu's Chocolate. They are vegan, organic, gluten free, soy free, fair trade & sweetened with low glycemic coconut sugar. And thy are delicious.

Image courtesy of Lulu's Chocolate.

Another chocolates  that are absolutely amazing are Sjaak's Organic Chocolate. They are vegan, organic, non-GMO. And the selections is just so great from chocolate bars to gift boxes and Holiday treats.

Image courtesy of The Sjaak's Organic Chocolates.

YES Cacao offers vegan, organic gluten free chocolates. And they are also incredible. "YES Cacao is a change maker's holistic approach to merging healthy with delicious."

Image courtesy of YES Cacao.

Square Organics protein bars are also great gift. They come in different variety and taste great.

Image courtesy of Square Organics.

There are of course other brands worth checking out, so buy a box or just few bars. ( But I suggest, don't be a Scrooge 😉 ). I suggest to look at:  UnReal Chocolates,  Freedom Bar–  Or LaraBar, or NuGo bars. Just please check the ingredients, because not all flavors are vegan.

Vegan/Eco Friendly Boxes Subscription. Here I would suggest Vegan Cuts. They offer vegan snack box,vegan make up box and vegan beauty box. It is great way to introduce someone to vegan products, or just make a Vegan loved one happy with the products they already know and love.

Image courtesy of VeganCuts.

Love Goodly is also great subscription option. It is a box made for woman by woman. Its goal is to help switch to safer, healthier, cruelty free skincare and beauty products.

Image courtesy of Love Goodly.

One of younger subscription boxes out there is GreenUp Box. Their mission is to reduce use of plastic, to reuse products and simplify life. This box is for all who want to leave more green, eco-friendly life. But to be honest this is a great box for anyone. And every month you will find great items, that will be used over and over again.

Image courtesy of GreenUp Box.

Now, if it comes to bigger presents, that may not fit into Christmas stocking. 😉

Vegan Cooking Books/ Compassion literature. There are so many amazing Vegan Cookbooks out there. But here are few that I personally like a lot:  "The Ultimate Vegan Cookbook. The Must-Have Resource for Plant-Based Eaters"  by Emily von Euw, Kathy Hester, Linda and Alex Meyer,  Amber St. Peter, Marie Reginato, Celine Steen.(Click here to read my review). "Vegan Reset: The 28-Day Plan to Kickstart Your Healthy Lifestyle" by "Love Rhymes with Everything. Animal ruminations through poetry & paintings". Poems by Kat von Cupcake, Art by Dana Feagin. (Click here to read my review). "The Superfun Times Vegan Holiday Cookbook" by Isa Chandra Moskowitz. (Click here to read my review). "Raw Food Art" and "Live, Love, Light and Fruits" by Aleksandra Winters. (Click here to read a review of Raw Food Art).
Kitchen Equipment/ Accessories: Every Vegan will appreciate Tofuture -Tofu Press in their kitchen.

Image courtesy of Tofuture.

Also bambu, sustainable home-goods, eco friendly dinnerware by Bambu Living.

Image courtesy of Bambu Living.

Coconut bowls -eco friendly, ethical bowls, utensils and more.

Image courtesy of Coconut Bowl.

For those who love to grow their own plants and herbs, indoor garden is a great idea. Check Click and Grow brand as well as Grow Book for their products.

Image courtesy of Click and Grow.

Image courtesy of Grow Book.

Vegan Fashion: There is vast array of vegan, cruelty-free, eco-friendly brands out there. But here are brands worth a look: Lavishy – offers beautiful, cute accessories like jewelry, but also wallets, travel accessories, bags and more.

Image courtesy of Lavishy.

For purses and bags check also Gunas NY. Their products are fashionable, beautiful and cruelty free.

Image courtesy of Gunas New York.

The Tree Bag Company also needs to be mentioned here. They make their bags from cork.

Image courtesy of The Tree Bag Company.

Image courtesy of Pixie Mood.

Pixie Mood offers playful vegan bags and accessories. And they come in different shapes, sizes and colors. Go Vegan/ Cruelty Free Fashion!
I hope you find this guide helpful. Happy shopping!
(I may update the list during the next few weeks, so please check back here soon. 😉
Disclaimer: I wasn't paid to write this guide. I talk about products that I either personally used and love and I would recommend. Or Brands and products with great mission.  I haven't f.ex. try all the subscription boxes or bambu products, coconut bowls or all the vegan fashion brands that I wrote about, but they really look like great items and ideas. I wouldn't mine to be gifted with some of the present from my guide. 😉