This is super easy dish, but so delicious. And quite quick to make. (Not counting the time that dish sits in the oven 😉 Also it is up to your imagination and taste, which veggies you want to use.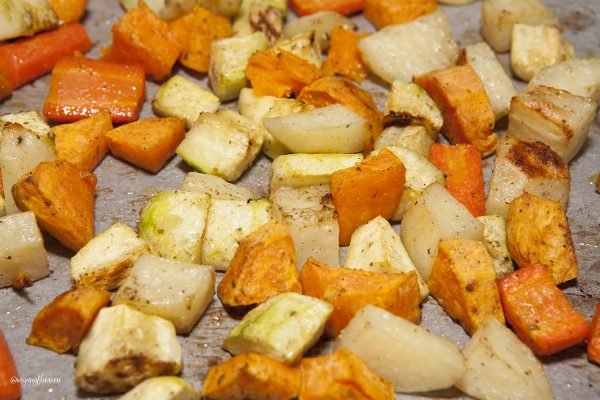 Warm Veggies
Ingredients:
Seasonings mix : salt, pepper, cumin, chili, basil, red pepper, etc. I use special potato seasoning blend from Poland.
Directions:
First prepare all the veggies. Wash and peel. Cut them into small chunks. (Besides garlic).
Put all the veggies into a bigger bowl. Add seasoning and olive oil. Mix well, so all the veggies are coated in seasoning and oil.
Heat oven to around 450F. You may go lower, depending on your oven.
Put all the veggies onto baking sheet. I put first parchment paper and put a little bit of oil, so veggies don't stick to the paper.
Bake for 30min, take out, turn the veggies around and check if they are not burning, than put back for probably additional 15min. (It depends on your oven. If you feel the veggies, especially potatoes, are soft you may put it back for shorter amount of time).
When the veggies are brownish and soft they are ready. Serve warm.
They are great as a side dish or main dish. Enjoy!