Home Free Treats- The company's products are gluten free, nut free, without GMO ingredients. They are also free of peanuts, eggs, wheat, dairy, soy (except lecithin), fish, shell fish. Many of their products are verified by NON-GMO Project, certified organic, and certified Gluten Free. Their cookies are also vegan. (How I wish more companies were like Home Free Treats!)
Soft Gluten Free Oatmeal Cookies– they are really delicious and soft. They melt in your mouth. They are tasty and really guilt free kind of cookies. Loved the texture and flavor. My only complain is there are only 6 cookies in the box. They were my favorite from all that Home Free Treats send to me. (Even my friend who doesn't need to eat gluten free loved those).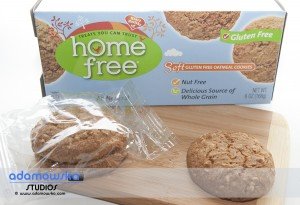 Chocolate Chip Cookies- Little cookies,  bite size, rich in chocolate. Little too hard for my taste. But they are good with coffee, or your tea.
Mini Vanilla Cookies– are similar in texture to chocolate chip cookies. Also hard, but tasty.
General rating: [rating=4]
Product provided by: www.homefreetreats.com
* Disclaimer: The opinion expressed in the review is my own and honest viewpoint. I was not required to write a positive statement.