Goldbaum's was established in 2007. What started as cooking and experimenting in home kitchen turned out to be Goldbaum's Natural Food Co. They offer many products, f.ex. gluten free pastas, gluten free crackers, gluten free ice-cream cones, snacks and more. Not all the products are vegan, but the company offers items that don't contain animal ingredients.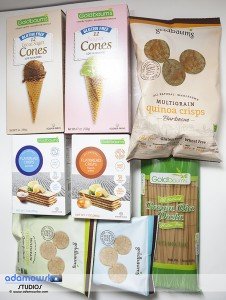 Flatbread Crisps – Just Salt- This flatbread tastes really delicious. I tried it plain, and with butter, and peanut butter and with soups. Each time tasted great. It says they are "Just Salt" but for me they aren't salty enough. They are more sweet. But I loved them and the texture and the taste. Ingredients: Corn Starch, Chickpea Flour, Palm Oil, Rice Flour, Potato Starch, Sugar, Salt, Naturally Delivered Xanthan Gum, Cellulose Gum, Baking Soda (Sodium Bicarbonate), Natural Citric Acid.
Flatbread Crisps- French Onion- I loved this one too. The onion flavor is not too strong. Just mild taste of onions. Quite similar to the "Just salt" version. But I loved it and enjoyed it same ways as the other one.
Quinoa Crisps – Sea Salt– and Quinoa Crisps Onion and Garlic- They are crispy, made of quinoa, brown rice, whole grain corn, flaxseed, and teff flour. They are light and crunchy, but also have strong smell and strong taste. They are ok to snack on, but personally would like less strong flavor. 
Multigrain Quinoa Chips Barbecue! – Those are amazing. They taste so delicious! Loved the seasoning, the texture, that they are crunchy, but light. So good, so yume! The package gets empty quick, so watch out!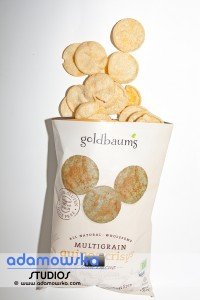 Gluten Free Ice Cream Cones – Those are delicious! They are crunchy, very crisp, but they just melt in your mouth! They taste amazing. The company have few flavors and shapes of ice cream cones. I have tried Coca Sugar Cons and Sugar Cones. They are both great. My only complain would be that they are small in size. Ingredients: Potato starch, tapioca starch, palm oil (GMO Free), sugar, dietary fibers, emulsifier (lecithin), cocoa powder, xantham gum, salt, baking soda, natural vanilla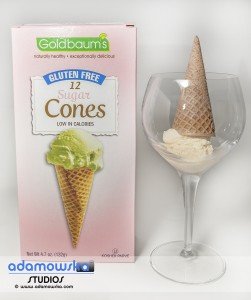 Brown Rice Pasta– Fettuccine- This pasta is really great. Cook it for 3-5min and then leave it in the hot water for 15 min. After pasta was cooked,  it held its shape very nicely.  Taste and texture was great. I used it with tomato sauce. It was great dish!
Summarizing: The company's products really stand out and the quality is really high. Honestly they taste so good you will not even know that you are eating gluten free food! Ice cream cones and flat bread were my favorite. I think I can hostly say those were the best gluten free/vegan items I had found on the market so far. I loved all the goodies the company send me and I know I will be buying Goldbaum's products in the future. I encourage you to look for their items next time you are shopping for gluten free products.
General rating: [rating=6]
Product provided by: www.goldbaums.com
* Disclaimer: The opinion expressed in the review is my own and honest viewpoint. I was not required to write a positive statement.