If you love chips, you will love Jackson's Honest Chips! I am honest! (No pun intended). 😉
I tried their Sea Salt Potato Chips and they are really good. Most important they are made with organic coconut oil! It makes them so much better and healthier than regular chips! Jackson's Honest Chips are Kettle cooked in Colorado, USDA Organic and very important: Non-GMO project verified! Do I need to say more? 🙂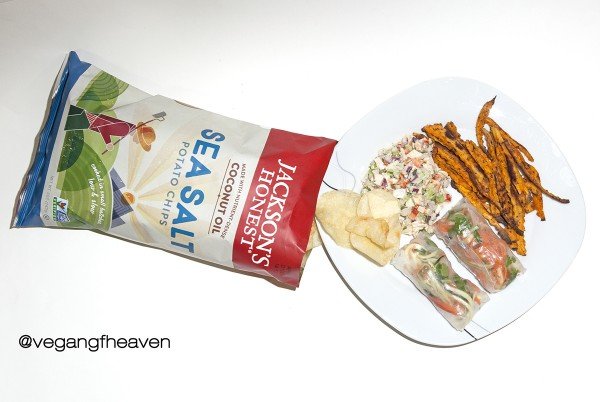 Those chips are  tasty, rich and crispy. They are great as a snack and an addition on your lunch plate.
They offer few flavors of potato chips ( f.ex. Purple Heirloom, Barbeque, Sweet Potato) and also Tortilla Chips (f.ex. Blue Corn, Salsa Fresca).
In addition I would like to add that the company is a family business.
"It's not out of any misplaced confidence that we felt we could possibly compete with the big snack food manufacturers; rather, it is a very personal reason with a complex backstory."
I suggest you go to their web site and read the heartbreaking story. I am happy the Jackson's family went that far. I wish them all the best! We all should support great, small business like this!
So what are you waiting for? Order those chips now! 🙂 They are delicious!
General rating: ★★★★★
Product provided by: www.nakededgesnakcs.com
* Disclaimer: The opinion expressed in the review is my own and honest viewpoint. I was not required to write a positive statement.