Ladies and gentlemen, let me introduce you to a brilliant little tool, that will add fun and creativity into your kitchen. It may be small, but it can do great things. And you will be wondering, how did you survive in the kitchen without it.
Vegetizer by Yanu Kitchen is small and portable spiralizer. For some it may be pro for other contra, that it is small in a size. I found it perfect. I can easy store it, and I  was thinking that in the future I can pack it for camping.
First what comes in the box:
Spiral Slicer
Ceramic Peeler
Pouch Bag (Perfect to pack it for the camping I have mentioned 😉
Cleaning Brush
Box With Manual
8 Recipe E-Books  (you get e-mail with link to books, after you purchase Vegetizer).
Vegtizer helps transform your boring dishes into fun and nice looking ones. It is easy to use. It works almost like a pencil sharpener, where you twist the veggie of your choice and you get a nice, thin spirals, noodles like shapes. I have tried it so far on zucchini and carrots and yum. It works great. You can also use it with cucumber, squash, other potatoes and any vegetable or fruit that is firm and fits inside Vegetizer.
The disadvantage of Vegetizer is that you are left with a pretty big chunk of vegatble, because it will not go all the way though, to the end. But you can always work around it.
You can actually make a quick salad by running few veggies in the spiralizer and mixing them together. Here is one example:
I used Vegetizer to make spirals from zucchini and carrot. I mixed it with teaspoon of olive oil and seasonings and put aside. Than I run yum through Vegetizer and mixed with olive oil and seasonings and baked for 15 min. (This was actually a recipe from the E-Book). Than I tossed it on my zucchini and carrot. Perfect salad!
Vegetizer helps to make salads, but also helps to decorate your dishes, making them pleasing to the eye.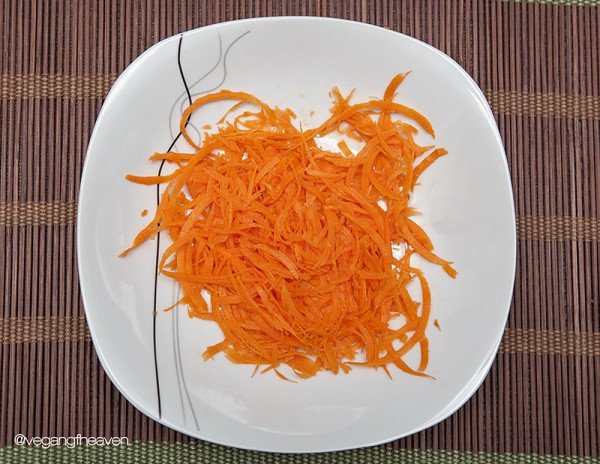 (Carrot noodles).
(Zucchini noodles).
The cleaning brush that comes with Vegetizer is really small, but it does the job. It helps clean the blades and it is dishwasher safe.
If it comes to E-Books-they are missing pictures, but the recipes are easy to follow and I am sure anybody will find something for themselves, doesn't matter which diet they are following.
This is an excellent gift idea, especially that we are approaching Christmas. (Perfect stocking stuffer!)
Also keep in mind that Yanu Kitchen offers bulk promotion: Buy 2 Vegetizers and get 5% off/ Buy 3 and get 7% off/ Buy 4 or more and get 10% off. For details check their web site: www.yanukitchen.com
General rating: ★★★★★
Product provided by: www.yanukitchen.com
* Disclaimer: The opinion expressed in the review is my own and honest viewpoint. I was not required to write a positive statement.