Vegan Cheese Omelet
Ingredients:
half package of soft tofu (can be even little less, if you are making just 1 omelet).
Vegan Cheese (I used Daiya Mozzarella style cheese shreds- you may also use any Vegan flavor cheese you like or nutritional east instead).
1 tablespoon of potato starch
2-4 tablespoon of vegan milk (you may use even more, if it is hard to mix all ingredients). I used soy milk.
spices: salt, paper, chili powder, basil, curry- Add spices you like. You may just keep it simple with salt and pepper if you like.
For the feeling:
spinach
onion
garlic
mushrooms
tomato (optional)
Use the filling you like.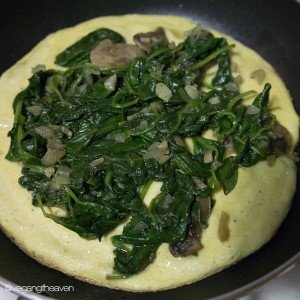 Directions:
Using mixer or food processor, blend together all the ingredients until smooth. (Here you may add extra milk, if it is hard to blend everything).
Pre-heat your small, or medium skillet, sprayed lightly with oil, till hot.
Pour the batter into skillet. Reduce the heat to small.
Cook for 3 min, and than place your filling ingredients on the top. (It is good to keep the filling warm). Also if you are brave enough, you can try to flip the omelet, before putting filling.
Cover and cook for additional 3 minutes. Check often to see if it's done. If the middle is no longer like a liquid, fold one side over the other.
You can add additional 1-2 min to cook. Check often to make sure it is not burning.
When the edges are dried out and omelet is set, serve immediately!
Enjoy!