Few days ago to doors of Vegan Gluten Free Heaven arrived a big package. It got few items from Edward & Sons Co.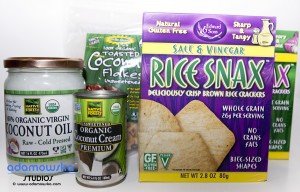 Before I will get to reviews there is few information worth to know about the company.
Edward & Sons Trading Co is family owned and run business. It was founded in 1978.
Their motto is "Convenience without Compromise" ®

The company does not tolerate artificial ingredients in packaged foods so Edward & Sons™ products will never contain artificial flavors or colors, chemical preservatives or hydrogenated fats. (How awesome is that?)

All of their items are vegetarian and most are suitable for vegans. (This is wonderful!)

They offer many options for those with food allergies and special diets such as Gluten Free or Kosher. (Thumbs up!)

Their product family encompasses several brands, including Edward & Sons ™, Native Forest®, Let's Do…Organic®, The Wizard's®, Premier Japan®, Let's Do…® and Road's End Organics®.
First let's look at Rice Snax.
I opened Rice Snax Onion and Garlic flavor first. They were gone in few minutes. They are so delicious, crisp and and  tasty. The flavor is strong but I like it. They are small, bite sized, so they are good size for kids. They are made of brown rice flour. They are vegan and gluten free of course. They are great as a snack. Thumbs up for this item!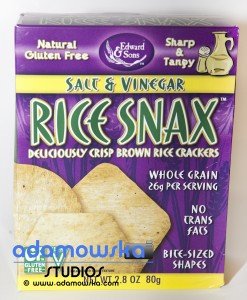 Rice Snax Salt and Vinegar– the flavor is too strong as for my taste. Vinegar is all you can savor. As much as I loved the other flavor this one is just too much. Maybe less of vinegar would be good. Or maybe mixed with some mild dipper to fulfill each other. As a snack alone I found them too vinegary. (But they have great texture, and they are convenient. It just not a right flavor for me).
Now I used two other items together in one dish. I baked delicious gluten free/vegan apple pie. I used their Organic Virgin Coconut Oil and Toasted Coconut Flakes.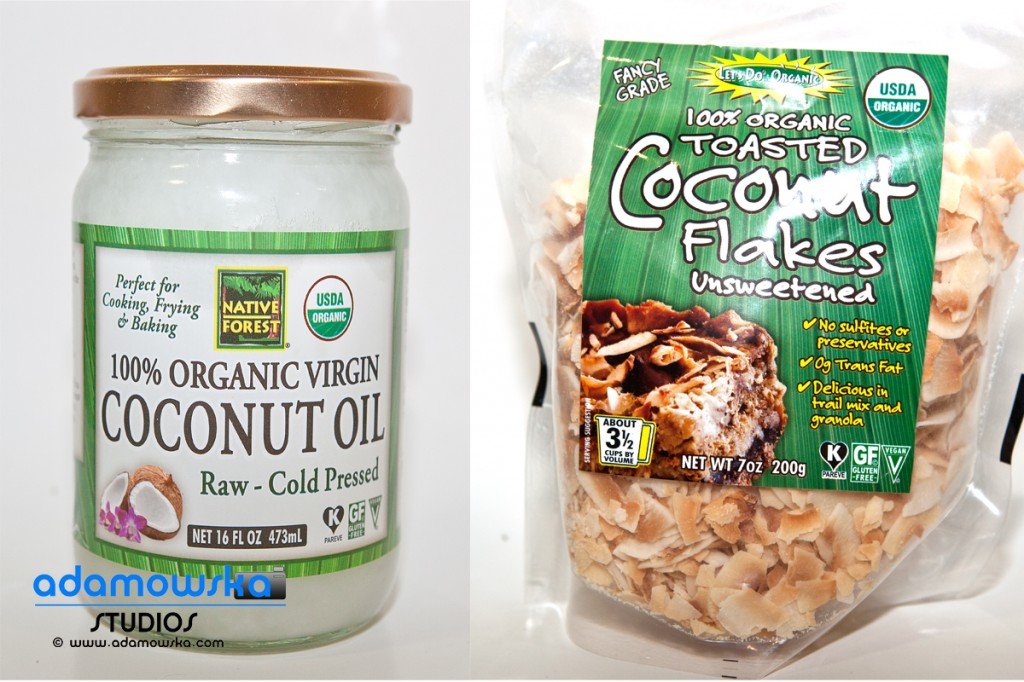 Honestly I was improvising. The apple pie came out wonderful. Thanks to the coconut oil it was delicate, and melting in mouth. Had this nice texture and taste of coconuts. Toasted Coconuts Flakes maybe weren't the best idea to put in the pie. They become little gooey. They are great though in my vegan yogurt or with my morning cereal. They are unsweetened so they don't have much sugar.
Organic Coconut Cream- As you know coconut cream  is very similar to coconut milk. It  contains less water though. What differ them is consistency. Coconut Cream is thicker, more paste-like consistency, (while coconut milk is generally a liquid).
Coconut cream is good for toppings for fruit salads or fruit pies. And that's how I used it. I also added to my dessert their Toasted Coconut Flakes. Had to add some sweet topping to make it more sweet thought. I used it also with my coffee, as a creamer. Since it is unsweetened version I added a little bit of agave. This Coconut Cream is more watery than I would expected but it tastes good. The flavor is rich. It has smooth texture. The can is tiny, but convenient for a single serving. (Usually coconut cream goes bad quickly so small can prevent wasting). Another great thing about this cream is that cans are BPA free.
We definitely need more companies like Edward & Sons. Guys you rock!
Items provide by www.edwardandsons.com
Overall ratings: [rating=5]
* Disclaimer: The opinion expressed in the review is my own and honest viewpoint. I was not required to write a positive statement.