I am always in search for delicious bars. And the less ingredients, the better.
Let me than tell you about my new discovery- Freedom Bars!
Those are delicious vegan, gluten free bars, that have no sugar added. They are healthy, taste amazing and are GMO free. They are made of only 4-5 real, simple ingredients. No ingredients you can't even pronounce, or ingredients that scare the heck out of you.
Freedom Bar uses dates, so it gives the bar the sweetness. Other ingredients depend on the flavor.
Freedom Bars come in 4 flavors:
Chocolate Cocoa
Raisin Almond
Peanut Butter
Apple Cinnamon
F.ex. Apple Cinnamon besides dates also have apples, cinnamon, almonds and pecans. Chocolate Coca one has dates and also almonds, cocoa, walnuts and sea salt. Raisin Almond- dates, almonds, pecans and raisins. And Peanut Butter- dates, peanut butter, peacans and sea salt.
As you can see the ingredients are simple and healthy.
Freedom Bars are great as a healthy snack, no matter your dietary needs, or breakfast on the go, or post-workout snack, or your office snack. They taste incredible and are fulfilling.
Freedom Bar didn't sacrifice the taste and texture, while making those healthy bars.
I loved all the flavors. So it is really hard to pick the favorite one. But if I had to choose I would probably go with Chocolate Coca one. It is so reach and so delicious. But they all are. And they are also crunchy. (I am snacking on Raisin Almond Freedom Bar while I write this review 😉 It is heavenly! )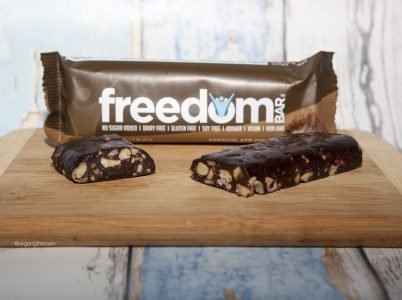 If you wonder what are the health benefits of Freedom Bar, read the answer from the creators of the Bar:
Our bars are unique in the way that they are 'free' of so many things! Gluten free, soy free, dairy free, non-gmo and no preservatives are just some of the benefits of Freedom Bar. Because our bars are made up of raw ingredients, they carry an extra health gain for you. Raw fruits are known to have copious benefits to your health, since they are high in fibre, contain various important vitamins and minerals, increase energy and are an all around power food to your body!
Freedom Bars are really amazing. Feel free to try them! 😉
General rating: ★★★★★
Product provided by: https://www.freedombar.com
* Disclaimer: The opinion expressed in the review is my own and honest viewpoint. I was not required to write a positive statement.