Galaxy Nutritional Foods, that was on the market for 30 years, announced the launch of GO Veggie!™, a new brand of products for those who are seeking dairy and lactose free foods.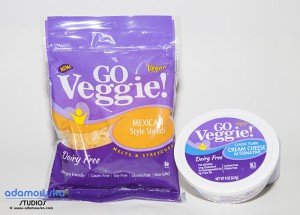 The brand offers now GO Veggie! Lactose Free (green packaging) and GO Veggie! Dairy Free, Vegan (purple packaging) and also GO Veggie! Rice Products (blue packaging). Among the products we can find: shreds, slices, blocks, grated topping and dairy free cream cheese alternatives in a range of flavors.
GO Veggie!™Classic Plain Cream Cheese Alternative – This cream is rich and smooth, easy to spread on the bread. It doesn't exactly taste like a cream cheese made of cow milk, but after all this is vegan cream cheese, so no animal ingredients in it. And this is great. I put it on my gluten free bread and spread my crackers with it. It definitely tastes much better with extra touch. Adding tomatoes and seasonings made it a great snack.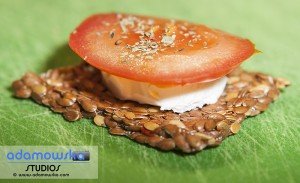 GO Veggie!™ dairy free Mexican Style Shreds- This is really great cheese alternative for all the recipes that include cheese that you want to melt. I tried it in a few dishes and it didn't disappoint me once. It melts so nice and it tastes like your regular cheese, but it is better because it is vegan and (gluten free!). My potato Cheese Casserole was delicious with touch of cheese, and grilled sandwich tasted great. Also my arepas with this cheese came out so tasty!And of course I used it on my gluten free/vegan pizza!!
When I asked if the products are gluten free, the answer was: "Though they are not made in gluten free facilities, the lines are sterilized and there are strict allergen tests set in place before and after each production run of our products to ensure that there is no chance of cross-contamination." Please be your own judge if you are celiac or have gluten allergies if you want to purchase the products!
When I looked for info about using non-GMO ingredients, the web site states:
Our GO Veggie! Dairy Free products are formulated from non-GMO ingredients, and we label according to the FDA guidelines of good practice.
The packaging doesn't carry any non-GMO Project sign though.
General rating: [rating=4]
Product provided by: www.goveggiefoods.com
* Disclaimer: The opinion expressed in the review is my own and honest viewpoint. I was not required to write a positive statement.