This review is so over due. I apologize for the delay. But at the same time I feel like I Heart Keenwah brand and they new products don't even need introduction. I think by now everybody heard about super delicious I Heart Keenwah Chocolate Puffs!
This great snack is not only vegan, gluten free, GMO-free, organic, and fair trade certified but also is healthy, low in sugar and high in protein (compering with competition).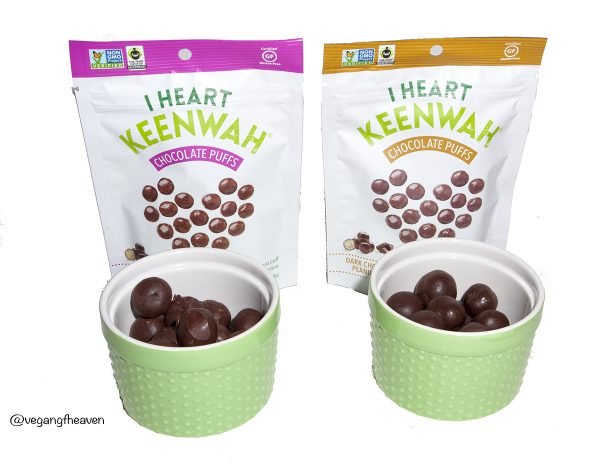 Puffs are tasty and delicious. Crunchy and awesome. There are two chocolate flavors now:  Dark Chocolate Himalayan Pink Salt and Dark Chocolate Peanut Butter. They are both great. This is awesome snack for kids and adults. Dark Chocolate Himalayan Pink Salt has the right combination of salty, sweet and yummy. It goes well also with coffee. (I got sweet tooth 😉 Dark Chocolate Peanut Butter, well chocolate and peanut butter, what else would you like? Just perfect combination.
Puffs are covered in vegan chocolate, that is vegetable based glaze. (Other chocolate coated snacks in the market, use a shellac-laden confectioner's glaze, which is derived from the lac beetle).
I heart Keenwah and I know you will too!
General rating: ★★★★★
Product provided by: www.iheartkeenwah.com
* Disclaimer: The opinion expressed in the review is my own and honest viewpoint. I was not required to write a positive statement.