I have received beautiful  "The Book Of Veganish" by Kathy Freston from Avery Publisher (an imprint of Penguin Random house). (Thank you Farin for sending it to me 🙂 ).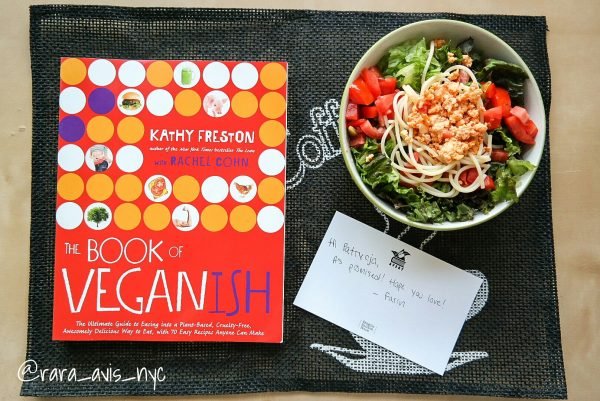 This is great book for those who are thinking of becoming vegans, just started being vegans and also for those who are vegan already, but need more ideas and recipes for their vegan kitchen.
This is beautifully printed book with colorful images of dishes and many very helpful tips.
The book is divided into two parts. First part introduces the reader to idea of veganism,  tips how to substitute in vegan kitchen to vegan ingredients, how to keep it simple and healthy. It also gives recommendations and suggestion what to order while eating out, even what to order in particular restaurants.
Part two of the books is full of vegan delicious recipes. The recipes are divided to:
breakfast,
soups, stews and chili,
salads,
sandwiches, wraps and burgers,
dinner specials,
pasta and noodles,
from the oven,
dessert.
The recipes are delicious and I am sure I will be trying most of them through the time. Also, in most cases, I think it will be easy for me to substitute ingredients to gluten free version.
I made today Buffalo Cauliflower Bites and they were super tasty.
This is great guide and cook book. What are you waiting for? Get a copy for yourself, or your friend!
General rating: ★★★★★
Book provided by: http://www.penguin.com/meet/publishers/avery/
* Disclaimer: The opinion expressed in the review is my own and honest viewpoint. I was not required to write a positive statement.