Request for Vegan accessories and apparel is on demand more than ever and I, like every vegan person, am always  excited to discover new Vegan company. Lavishy is one of the them. They offer unique, fun line of vegan leather products (wallets, bags, travel accessories) and vegan jewelry. The company was founded in 2001. They products are fun and colorful, vegan, recyclable and eco-friendly. They stand for being good to the environment and kind to animals. Their motto is : All for fun. Fun for all!
LAVISHY boutique was found in 2007 to showcase LAVISHY designs as well as some of products they found at the trade shows they exhibited.
Their products have been featured by leading trade and consumer magazines including the world's No.1 trade magazine for gift industry Gift & Decorative Accessories, Canada's No.1 trade magazine for gift industry Retail News, Giftware News, Gift Shop, Specialty Retail, Gift & Tableware, Canada's No.1 high fashion magazine ELLE, Canada's No.1 woman's magazine Chatelaine, Canada's No.1 fashion magazine LOU LOU for over 200 times. Their line is represented by leading showrooms in USA including New York, Atlanta, Las Vegas, Los Angeles, Chicago and Seattle.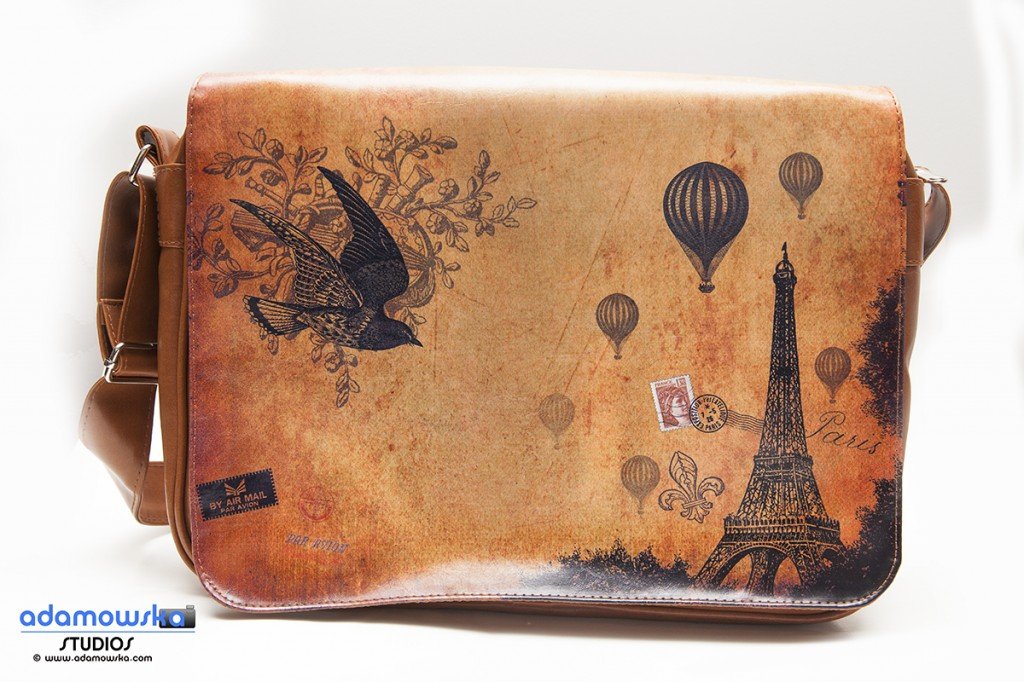 Lavishy send me wonderful messenger bag: Vegan Leather Paris Large Messenger/Laptop Bag. It looks adorable and beautiful exactly as on their web site.
The bag is made with certified toxic-free vegan leather, that is recyclable, biodegradable and eco-friendly. The design and print is beautiful and unique. It is fully padded and  you can easily carry  your 15″ laptop. It is well designed and well made.
The flip-open cover has two magnetic clasps. It is fast and easy to open and snap them back. The zipper keeps safe everything what you keep in the bag. The two-compartment, padded design and four small pockets  keep your items organized easily. Pockets can hold cellphone, pencils, keys, etc. The front has zipper pocket. There is also a zipper pocket at the back of bag.
I carried my SLR camera in it. It was a little bit uncomfortable to get it in and out, but it fits inside. It can easily fit few bigger sized books. I love this bag first of all of course because it is vegan, but also I love the design and that it has many pockets. This bag is very trendy and cool.
To check all of amazing Lavishy's vegan products and jewelry, visit their web site: www.lavishy.ca. You can also connect with Lavishy  on Facebook, Twitter and Pinterest.
General rating: [rating=6]
Product provided by: www.lavishy.ca
* Disclaimer: The opinion expressed in the review is my own and honest viewpoint. I was not required to write a positive statement. 
Now the fun part. GIVEAWAY!
Rules of Giveaway:
Three lucky people will win their choice of wallet-related item (any 1 wallet / accessories item ( excluding bag). *
Giveaway starts on January 27th 2014 and ends February 4th at midnight 2014.
The winner will be announced on February 5th  2014.
Mandatory entry: Like Vegan Gluten Free Heaven on Facebook and Lavishy on Facebook!
* By submitting to the giveaway you agree to be added to subscribers list.
And the WINNERS are:
Maly To
Harland Naim
Nicole
Congratulation to winners. Emailed are send to you too. 🙂