I thought that Arrowhead Mills Company is actually dedicated gluten free company. It turns out only some of their products are certified gluten free. My hope is gone now.
I emailed them because I was curious about oat flour they sell. It turns it is not tested for gluten. :/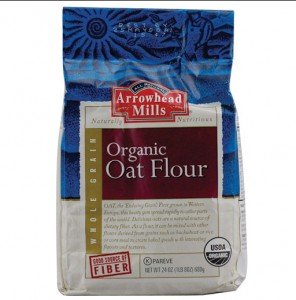 "Dear Ms.XXXXXXXXXXX,
Thank you for taking the time to contact us regarding our Arrowhead Mills® Oat Flour.
We are not testing the oat flour to be gluten free. That is why you do not see it stated on the label. Oats may come in contact with gluten containing products during harvesting.
We consider gluten to be in the following, barley, bulgur, couscous, durum, graham flour, kamut, malt , rye, semolina, spelt, triticale and any other types of wheat. We do not consider oat products to be gluten free due to the fact that studies are needed to determine the long- term safety of oat consumption. The issue of cross contamination with oat and wheat remains a concern in North America.
Consumer health and safety is our number one concern. We do not have lists of products that are specifically considered to be gluten free. Reading the label is the best way to check for the presence of ingredients which contain gluten. If gluten is a major ingredient, it will be specified in the ingredient list. For consumers concerned about the presence of trace amounts of gluten, we suggest avoiding products that include natural flavors or spices.
Hain Celestial Group products that make a gluten-free claim will carry the triangular Gluten-Free symbol, be labeled gluten-free, or specify Gluten Free certification by GFCO. To learn more about the wide variety of gluten free foods we offer please visit www.glutenfreechoices.com. We hope you find the information, recipes and articles to be a useful resource.
The Hain Celestial Group's labeling declares major allergens (peanuts, soybeans, milk, eggs, fish, crustaceans, tree nuts, and wheat) and we follow the U.S. FDA's regulations. We recognize the serious nature of the allergen issue and we strive to minimize risk.
Both major and minor ingredients of all products, as well as all processing procedures and equipment, are closely scrutinized and all potential allergen issues as determined by the Hain Celestial Group are declared on our labeling.
We assure you that strict manufacturing processes and procedures are in place and that all of our manufacturing facilities follow rigid allergen control programs that include staff training, segregation of allergen ingredients, production scheduling, and thorough cleaning and sanitation.
Thank you for your continued support. If we can be of further assistance, please feel free to contact us at 1-800-434-4246, Monday through Friday from 7AM – 5PM Mountain Time.
Sincerely,
Pamela
Customer Care Representative
Ref # XXXXXXXXXXX"