On daily basis I cook my own meal from scratch. I don't like over processed foods, and also it is hard to find a quick, ready or almost ready meal, that is vegan, gluten free and healthy. But since I am only a human and from time to time I need a quick meal either because I have no time to cook or because of lack of energy to be in the kitchen.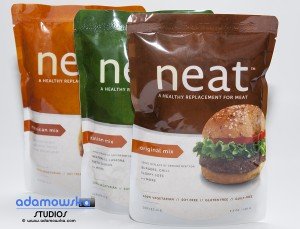 To be honest I was a little bit of skeptic when I got Neat- a replacement for meat. But I have decided to give it a try. They offer three flavors: Original Mix, Italian Mix and Mexican Mix. Of course first I looked at the ingredients list. It looks good to me: Pecans, garbanzo beans, gf oats, organic, gf cornmeal, spices. No artificial flavors. No GMO ingredients. Very good start.
Neat Original Mix– I have followed the instructions. Instead of eggs I have used an egg replacement. Basically you add egg replacement and water to pakage of Neat and mix well. Form burgers and fry. Quick and easy. I had little hard time shaping burgers since the Neat became sticky. I used gf flour on my hands to form burgers more easy. When they were done (approx. 7 min) I served them with potatoes and veggies. Personally they seem little bit dry for my taste. (But adding more water would make them much more sticky). They taste good though and I liked the spices they used. Probably next time I will add fresh, chopped broccoli to the mix before I fry them.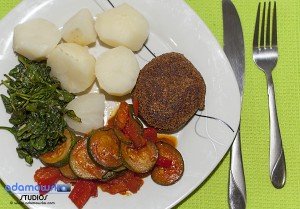 Neat Italian Mix- The same instructions like for burgers. Still the mix came out sticky. I made meatless meatballs from them and served with gluten free pasta and tomato sauce. I added vegan, gf cheese to the meatballs. Final product came out quite tasty. Very rich in herbs and spices. Anybody who will be in the mood for spaghetti with meatless meatballs this is product to go for. And again. Making meatballs takes just few minutes. They are ready very quick. Easy and fast to prepare.
Neat Mexican Mix– This was my favorite mix. I made tacos with it. Adding lettuce, tomatoes, beans, and vegan cheese made it delicious dinner. It has a great flavor. You don't even know you eat meatless tacos!
About Neat Company: Neat offers all natural, nut based, soy and gluten free meat replacement products to consumers who are looking to reduce or eliminate meat in their diet without sacrificing their favorite recipes. Neat, LLC was founded in March of 2012.
Neat provided by www.eatneat.com
[rating=5]
 * Disclaimer: The opinion expressed in the review is my own and honest viewpoint. I was not required to write a positive statement.