The 7th Annual  NYC Vegetarian Food Festival took place over the weekend (May 20-21st 2017) at the Metropolitan Pavillon in Manhattan. Each year it brings crowds and this year was no different. The line to get in was very,very long.
Veganism, and plant based living is getting stronger each year and therefore the interest in the Veg Food Festival is growing each year as well.
During two days of festival, participants could enjoy cruelty free foods, check cruelty free clothing and fashion, cruelty free cosmetics, and learn about healthy life style. There were many speakers and cooking presentations, live entertainment. Restaurants and vendors were giving samples of their foods, and you could also buy full vegan meals.
Marty's V Burger had never ending line of customers, since everybody was trying to grab their signature vegan burgers.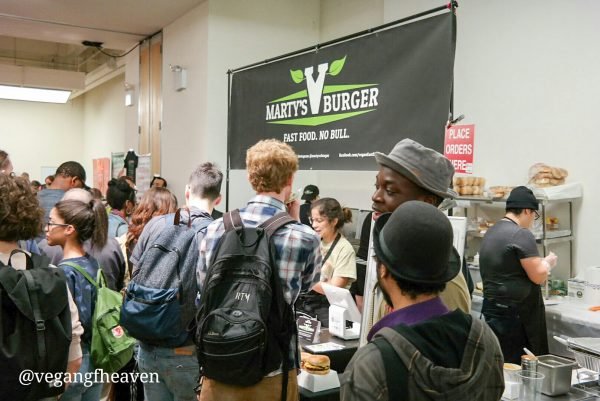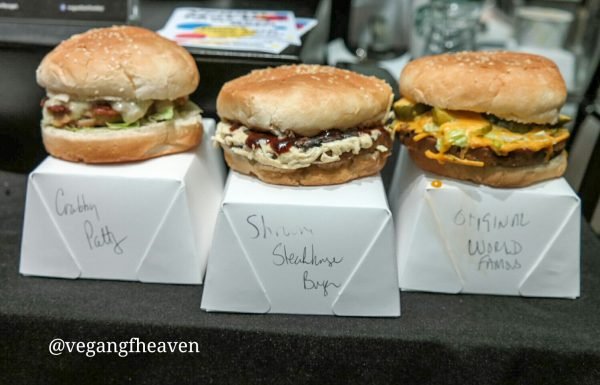 I personally knew most of the brands and their products, but still there were few vendors, that I learnt about at the festival.
One of my favorite vegan brands– Follow Your Heart was giving away their vegan egg samples, and served samples of their vegan cheese.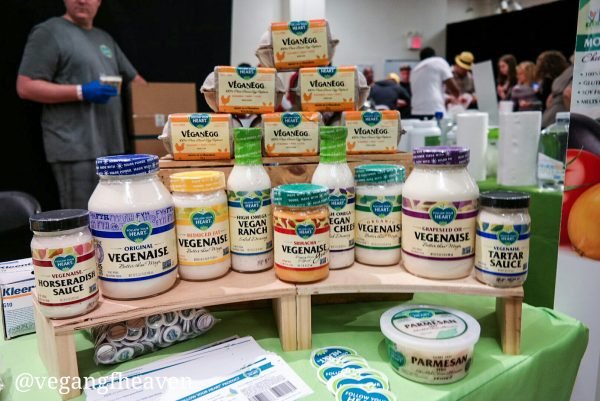 There were vegan baked goods as well. You could try donuts from The Cinnamon Snail, or cookies from Confectionery NYC.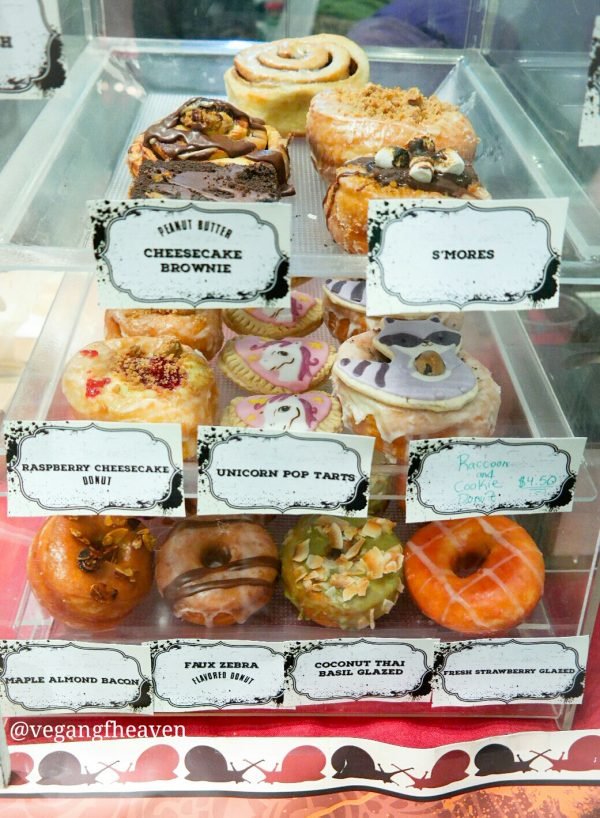 There were also all kind of drinks to try, f.ex. Health Ade Kombucha, or healthy shots from Shotco.
The new product I never tried before was  P-nuff crunch-very delicious, baked peanut puffs.
Attendees could get information from different organizations, that promote cruelty-free lifestyle. There was PETA, Compassion Over Killing, Mercy For Animals and more.
They were giving away informative brochures and booklets with vegan recipes, as well cute stickers with cruelty free messages. PETA also had comics for kids, explaining cruelty free lifestyle and the way animals are treated at the factory farms.
The organization Beagle Freedom Project also had their booth at the festival.
Beagle Freedom Project, founded in 2010, is a unique program run by the Los Angeles-based non-profit Animal Rescue, Media, and Education (ARME). Beagle Freedom Project negotiates with laboratories across the world to secure the release of dogs and other animals and give them a chance at a normal home life after everything they have endured for vanity and scientific curiosity.

The organization uses the rescues to draw public attention to the plight of animals languishing in labs and to promote cruelty-free lifestyle choices everyone can make. The beagles act as ambassadors who give faces to animal testing victims and remind the public that these animals are not just furry test-tubes, but dogs no different from their pets.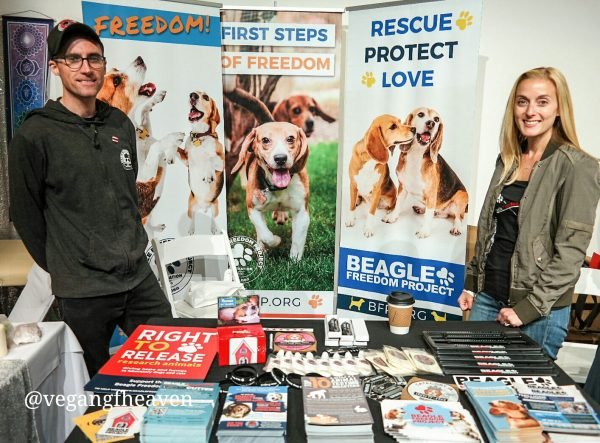 BFP was promoting this awesome phone application Cruelty Cutter. Their goal is to help choose cruelty-free cosmetics, while shopping. By scanning the product with the phone, the app will inform about it's animal testing status.
I personally think it is a great idea and I have already downloaded it on my phone. Even though I try to research my purchase beforehand, this app can help as well. It is good to have it handy, while shopping.
Another vendor that caught my attention was Unicorn Goods.
Unicorn Goods is vegan store, that sells and promotes animal-free products. They donate 1% of their profits to pro-animal organizations.
You will find many vegan brands on their web site. If you are looking for vegan shoes, vegan accessories, or vegan clothes, or even books promoting cruelty free life style, you can find it all on their web site.
And if you are dreaming about spending your vacation at vegan resort, you should check out The Stanford Inn by The Sea. This eco-friendly resort is friendly for families and pets. While you enjoy the nature, the beautiful surroundings, you can relax with massage sessions, meditation, yoga and much more. The Stanford Inn offers many activists and attractions.
NYC Veg Food Festival is always family and pets friendly. It is a wonderful way to get educated, try delicious vegan foods, learn about cruelty-free shopping and life.
I hope that the festival will get bigger and bigger each year, and more and more people will go vegan.
Go Veg my friends! For Your Health, For Animals, For Planet!
Ps. For more photos from the festival, please visit my Facebook page:
https://www.facebook.com/VeganGlutenFreeHeaven/
or Instagram account @vegangfheaven