Who doesn't like popcorn? Either salty, or sweet, or spicy, you can make it the way you desire. But of course not all popcorn is equal.
In the times, when it is important for out health, to pick products that are natural, and GMO-Free, PopZup brand brings a new way to make a delicious popcorn.
I met Julie Lapham, founder and Chief Marketing Officer of PopZup at the NYC Vegetarian Food Festival.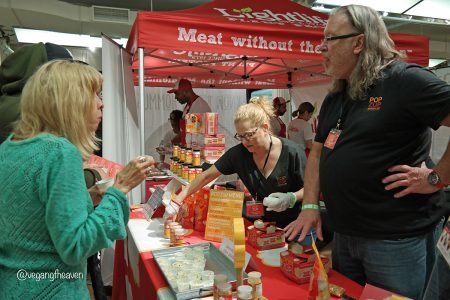 I  watched the demonstration how to use the PopZup Popper, tried the popcorn, and even added my own seasoning to it.
Now let me tell you more, why PopZup is different than the brands you can find on the shelves.
PopZup is a small family business, based in Dover, New Hampshire. All PopZup Popcorn Products are Non-GMO and Gluten Free, and also plastic and chemical free.
What is innovative with PopZup products is the way of popping the popcorn in special PopZup Popper. Each PopZup Popper is made of hard paper and can be used up to 12 times, to pop 12 large bags of microwave popcorn without chemicals, plastic, or silicone.
It comes with 2 pounds of non-GMO popcorn kernels in 12 single batch pouches. The box that holds the popcorn kernels is the reusable microwave popcorn popper. After 12 uses just recycle or compost.
The PopZup Popper is a patented box that expands up (or POP-ZUP) as popcorn pops in the microwave and vents steam to keep popcorn crunchy.
To get an idea, what I am actually talking about, and how cool it looks, you can check this video:
And this graphic may also help:
When the popcorn is ready, you can use special PopZup seasonings. They offer flavors like:
Vermont Maple Popcorn Seasoning
Cheesy Taco Popcorn Seasoning: DAIRY FREE
Sweet Sriracha Chili Popcorn Seasoning
Applewood Maple Smoked Popcorn Seasoning
Guiltless Kettle Corn Popcorn Seasoning
Maple Alder Smoked Popcorn Seasoning
Everything Bagel Popcorn Seasoning
Solar Dried Sea Salt Popcorn Seasoning
And few other that are not vegan.
My favorite is Cheesy Taco Popcorn Seasoning, but the other that I tried are wonderful too. The seasoning may also be used on other dishes, salads, not only on the popcorn.
I really think that the innovative way of popping the popcorn, introduced by PopZup will become quite popular. If a customer has a choice of healthier option, I am sure that is what they will choose at the store. PopZup is a new, fun, healthy way of popping popcorn.
So get your Pop-Zup on! Which seasoning will you choose? And which movie will go with your PopZup popcorn?
Thank you PopZup for a review product.
General rating: ★★★★★
Product provided by: www.popzup.com 
* Disclaimer: The opinion expressed in the review is my own and honest viewpoint. I was not required to write a positive statement.