"Salad Samurai" and "Protein Ninja" by Terry Hope Romero – Books Review
Terry Hope Romero is the author of many incredible cookbooks, f.ex Veganomicon, (which I also own by the way  😉 ).
Today I would like to introduce you to her other two amazing cookbooks: "Salad Samurai" and "Protein Ninja".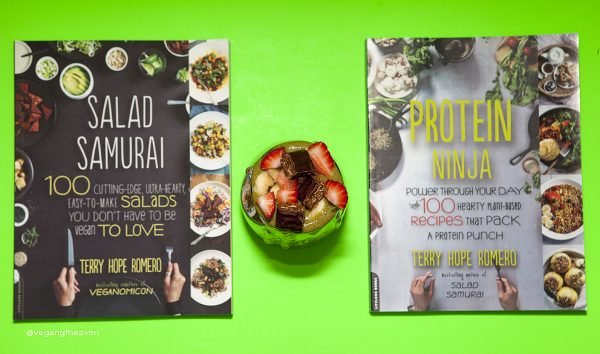 They both are amazing and beautifully designed, with gorgeous photos.
I love salads, and I love discovering new recipes and ideas. I personally make my own salads, by putting ingredients, that I think will go well together. I like to experiment.
The book by Terry Hope Romero "Salad Samurai, 100 cutting edge, ultra-hearty, easy-to-make salads you don't have to be vegan to love" is one amazing "gold mine" for delicious, unique salads recipes. Terry doesn't only put recipes for healthy, delicious, filling salads, but also recipes for dressings and vinaigrettes, salad toppings. Also, as she points out: "This is not a book about side salads. These are front, center, entree salads!"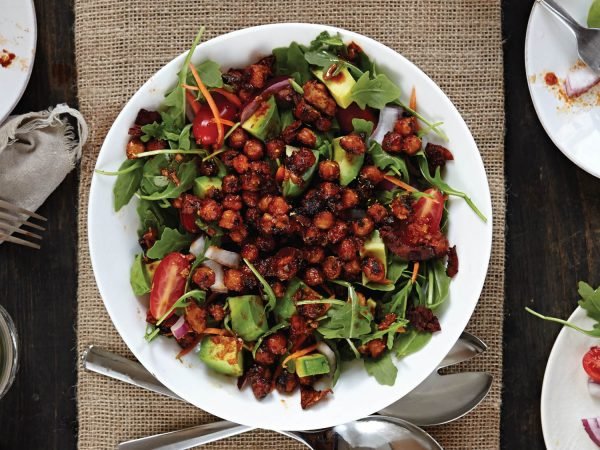 ( Smokehouse Chickpeas 'N' Greens Salad from "Salad Samurai by Terry Hope Romero.  Photo by  Vanessa K. Rees).
She organized her recipes by season, and also added a chapter "Sweet and Savory"- that contains breakfast ideas. The recipes are calling for ingredients that are affordable and easy to get. Nothing crazy and expensive. As the title says "you don't have to be Vegan to love" the recipes in this book.
I love that the recipe tells, if the dish is gluten free, or not. It is so much easier to choose the right recipe.
(Fiery Fruit & Quinoa Salad from "Salad Samurai by Terry Hope Romero.  Photo by  Vanessa K. Rees).
There are simple salads, with a lot of veggies and fruits, but also with rice, or pasta or lentils. There are salads with tempeh, with nuts, there are lettuce cups, or salad rolls. The variety of the recipes is amazing. So many diverse recipes, inspired by different cultures, makes it unique and amazing cookbook. 5 starts from me.
"Protein Ninja. Power through you day with 100 hearty plant-based recipes that pack a protein punch"  is another win. Terry Hope Romero outdid herself with another amazing cookbook. This is companion to "Salad Samurai".
The idea of this book was born from Terry's own needs, since she was going to the gym and needed protein in her body. This book is perfect for athletes, or just anyone who is looking for new, delicious recipes.
Again, there are amazing photos of some of the dishes. Not every recipe is accompanied by photo though. Also it looks that photos are just thrown there in no particular order and it is hard to connect a picture to the recipe. The book is beautifully designed, and printed. There are info, if the recipe is gluten free, or soy free, etc., which is helpful.
From smoothie bowls, granolas, to baked goods, burgers and noodle bowls, this book contains recipes with protein punch. Very often author uses vegan bought protein powders like: pea protein powder, brown rice protein powder or hemp protein powder. I personally would like to see less of this ingredient the the recipes, and be substituted with natural proteins instead.
(Baked Green Falafel With Pea Protein from "Protein Ninja" by Terry Hope Romero.  Photo by  Vanessa K. Rees).
Some of the recipes don't need much time or preparation, but some take a while to get it ready. Some are easy and some are more complicated.
In general this is another great cookbook by Romero , filled with many amazing recipes, with different flavors, and textures. This book gets 4 stars from me.
General ratings:
"Salad Samurai": ★★★★★
"Protein Ninja": ★★★★
Books provided by: De Capo Press LifeLong Books.
http://dacapopress.com/book/salad-samurai/9780738217529
http://dacapopress.com/book/protein-ninja/9780738218496
* Disclaimer: The opinion expressed in the review is my own and honest viewpoint. I was not required to write a positive statement.