Sjaak's is a small family business, based in Petaluma, CA.
Sjaak's Organic Chocolates creates a large variety of vegan products, including chocolate bars, gift boxes and Holiday treats. They use a gluten free facility and they use organic soy in all of their products.  There is no eggs or gelatin in their factory.
Sjaak's is certified organic and Rainforest Alliance Certified. They are also part of Fair Trade. Just for those facts you should be already in love with their chocolates!
Milk Chocolate with Creamy Caramel Bar– It is delicious and it is vegan. They use Non-Dairy Organic Milk Chocolate (made from rice milk and almond milk-no animals ingredinets!). The bar is rich and creamy caramel feeling is delicious. It is wonderful to have a milk chocolate that is vegan!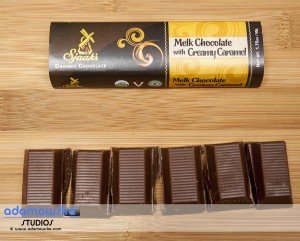 Dark Chocolate with Creamy Caramel Bar- I loved this one too. Maybe even little more than the milk version. It is rich and chocolate has perfect taste, texture, and flavor.
Dark Chocolate with Almonds Bar and Milk Chocolate with Almonds Bar– What a poetry in your mouth. Those are amazing and delicious. Big pieces of crunchy almonds inside, rich, delicious chocolate outside. Those bars are one of my favorite at the moment.
Sjaak's gift boxes are really cute and wrapped up with a bow. Chocolate European Assortment contains  9 pieces including an amandine (was my favorite), macadamia caramel, coconut caramel, soft chocolate caramel, gianduja, raspberry truffle, coffee caramel. They are sweet and have nice texture, but not all of them hit my spot. Some I liked more than other pieces. The same goes to  Dark Chocolate Truffles Assortment– some I liked more than the other pieces. I think I liked truffles better. But overall they are both nice variety boxes.
What do you get when you combine almonds and vegan dark chocolate? A heaven! Dark Chocolate Covered Almonds are so delicious that it is easy to eat the whole bag at once. Very addictive! Almonds are fresh and crunchy and the combination with dark chocolate make it really perfect treat.
Summarizing: Sjaak's makes quality, tasty products, great for any occasion. I am glad that the company is vegan and I can enjoy treats like their chocolates more often. If you are vegan or have a vegan friend he/she will really appreciate few of Sjaak's vegan bars or chocolate boxes.
At the end just info from the company's web site about allergies:
Sjaak's Organic Chocolates is a lacto-vegetarian operation. This means we have no eggs or gelatin in our factory. We take our vegan products very seriously and clean equipment thoroughly between batches, but take caution, trace amounts of dairy are possible. We do use various nuts in our products, if you have a severe allergy please use caution. We are a gluten free facility and we use organic soy in all of our products.
General rating: [rating=5]
Product provided by: www.sjaaks.com
* Disclaimer: The opinion expressed in the review is my own and honest viewpoint. I was not required to write a positive statement.