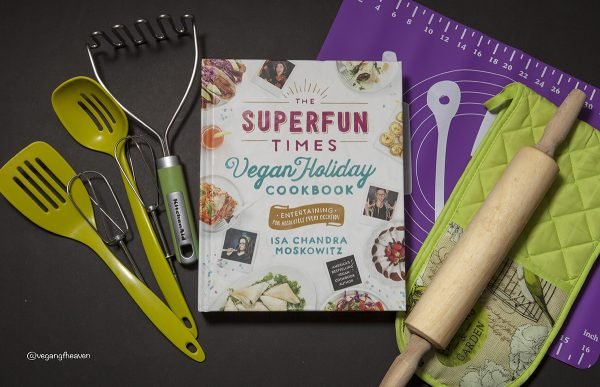 This gorgeous, big, fun, amazing Cookbook arrived  the other day on my door steps and I am still gushing over it.  This is like a vegan bible.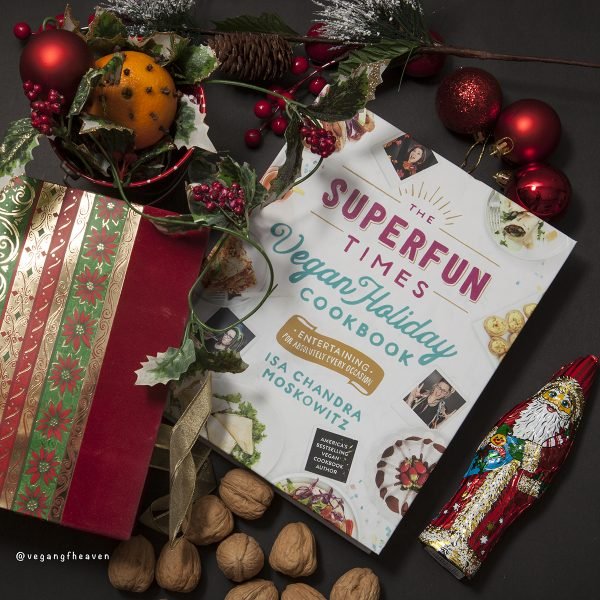 "The Superfun Times Vegan Holiday Cookbook" by Isa Chandra Moskowitz is absolutely must have on your shelf!  Beautifully designed, with gorgeous photos, this cookbook will help to celebrate any occasion with vegan recipes year around!
The book is divided into chapters, that represent all kind of popular holidays in America. From New Year Eve, to Super Bowl, Chinese New Year, Oscars Party, Easter, Passover, Christmas, etc. Each chapter has many recipes. I am sure some of them you will be making not only on certain holiday, but on other occasions as well. Main dishes, snacks, deserts- you will find them all in this book.
Don't skip the Introduction in the book. It is fun and actually helpful, with many great tips. You will learn what equipment will be useful and how to substitute for allergies. (f.ex. how to substitute gluten in the recipes).
I personally tried few recipes already, (and I made them on regular day, just because I was craving Glazed Vegan Ham ;-). Some of the recipes take more time to finish, and some are more easy to substitute with gluten free ingredients, than others. But in general this is amazing Cookbook to have on your shelf.
Here is picture of Glazed Vegan Tofu Ham I made:
It really looks and tastes delicious. I omitted some of the ingredients (f.ex. whisky, I don't drink,so there is no alcohol in my home 😉 ) and substituted others. But the final dish is just amazing. And it presents itself so beautiful!
Get this book, because from now on, there are no more excuses, how to prepare vegan food for any holiday! This Cookbook will help you with that!
General rating: ★★★★★
Book provided by: Hachette Book Group and Little Brown and Company
* Disclaimer: The opinion expressed in the review is my own and honest viewpoint. I was not required to write a positive statement.