America's Test Kitchen sent me their new cookbook: "Vegan Cooking for Two." It includes over 200 recipes. It is filled with full-color images and tons of inspiration.

The cookbook offers recipes for a smaller household. I love how it gives suggestions on customizing each recipe to our taste. Each page contains a recipe, kitchen improv, a level-up tip, and a beautiful photograph of the dish. I also love how the recipes are practical by taking into account portion size, cooking methods, and equipment.
The recipes are flexible and meant to fit into our busy life.
Don't worry if you don't have particular ingredients on hand. You can substitute it! Add some extra ingredients to change the flavor and texture and to add an unexpected twist. Do you need a more fulfilling meal? Test Kitchen has you covered. Add vegan protein or cooked grain. Don't forget you can mix and match the recipes.

This book has tons of helpful and practical tips.
It also includes a guide to a vegan pantry, like what grains to always keep on hand or which vegan protein is a staple in every vegan kitchen.
I like the future of vegan brand products and the explanation of why this particular item works in recipes.
It is a different cookbook from what I usually see on the market. I like all the tips, suggestions, substitute ideas. I really like the overall format of it.
From breakfast recipes to soups, sandwiches, salads, and pasta, you will find inspiration for every mood and occasion.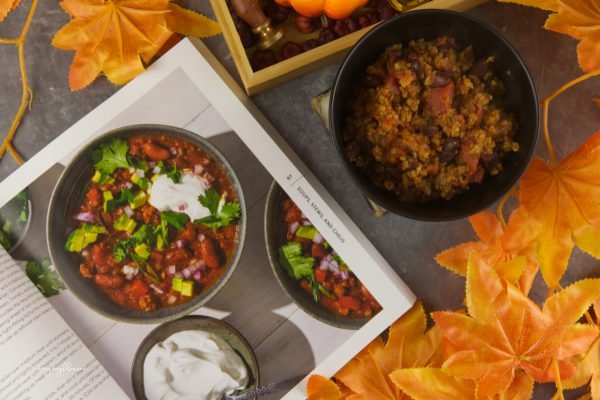 I made the Weeknight Meaty Chili, and even though I think I put too much vegan meat, I enjoyed the meal. It is easy and quick to make.
A must-have on your bookshelf.
Thank you American's Test Kitchen and  for a review copy of this book.
Pub day: October 18th 2022.
* Disclaimer: The opinion expressed in the review is my own and honest viewpoint. I was not required to write a positive statement.