Being vegan, while traveling, wasn't always easy. But fortunately for all vegans, it changes. Now there are more resources and more vegan restaurants and hotels popping out around the world every day. I personally still like to research, before I travel. I like to know in advance what my options will be.
And now, thanks to "Veggie Hotels" traveling  and research is even easier and  better.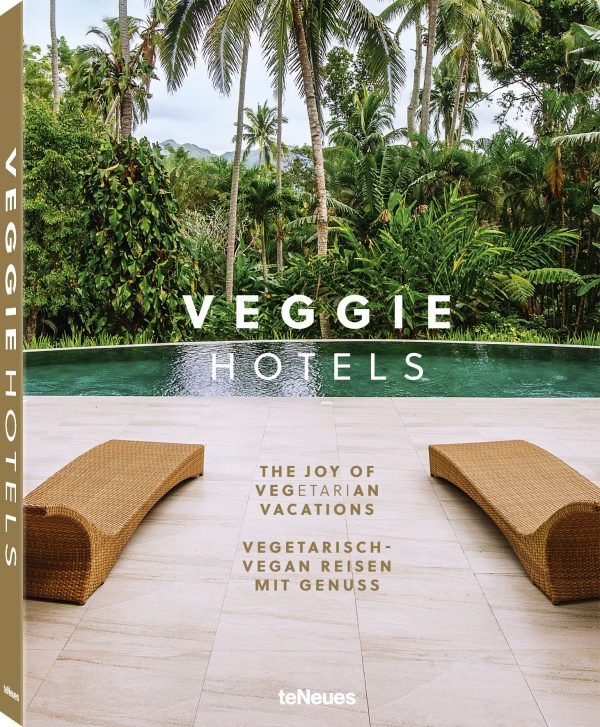 "Veggie Hotels. The Joy of Vegetarian Vacations." is beautifully published guide, that lists Vegan and Vegan friendly hotels around the world. Amazing pictures, gorgeous print and all the necessary information are combined in one beautiful format.
This book is something that was missing on the market.
The book was inspired by the web sites www.veggie-hotels.de and www.vegan-welcome.com. Karen Klein, Thomas Klein and Peter Haunert are the founders of those two portals. During their travels, they would encounter vegetarian or vegan friendly hotels and resources and decided to start the world's first directory of strictly vegetarian and vegan hotels, bed and breakfasts, health centers etc.
"Veggie Hotels" includes over 60 vegetarian, vegan-friendly hotels all over the world. (But if you check their web sites, you can find many, many more).
If you are looking for a luxury place to stay, or fun and sporty camp, this book will help you in your research. Vegan hotels in Spain, Italy, France, Germany, US, Greece,Turkey,UK- and many more- are included in this collection.
The book introduces vegan-friendly hotels, with descriptions, and specialties, that can be find on the property, or special classes, or programs that are available for the guests.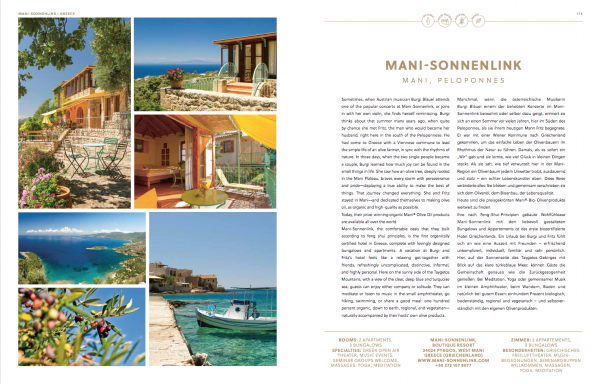 (Pages from the book. Photos provided by teneues-books.us )
There are hotels that offer yoga, meditation, or even cooking classes. There are holistic retreats that help guest to recharge and relax. There are also hotels that offer hiking, cycling or other outdoor activities.
Every description of the hotel mentioned in the book is accompanied by beautiful photography.
Very unique part of the book are recipes from the veggie chefs of each hotel.They look and sound delicious.
© VEGGIE HOTELS – The Joy of Vegetarian Vacations, published by teNeues, www.teneues.com. Hotel Nicolay 188, Photo © Marc Föhr & Philip Knoll, courtesy of Hotel Nicolay 1881. www.veggie-hotels.de; www.vegan-welcome.com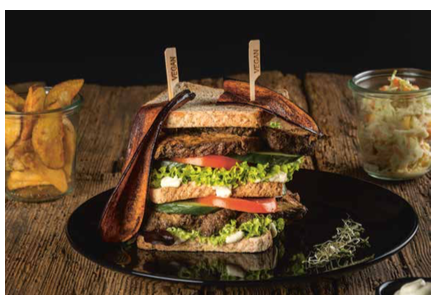 © VEGGIE HOTELS – The Joy of Vegetarian Vacations, published by teNeues, www.teneues.com. Naturhotel LechLife, Wängle, Tyrol, Clubsandwich, Photo © courtesy of Naturhotel LechLife. www.veggie-hotels.de; www.vegan-welcome.com
Hotels listed in the book offer not only vegetarian, vegan-friendly food, but they also serve allergy free food, or raw food, whole food, or food for those with gluten free restriction diets.
The Veggie Hotels is a pretty big format, and it is more a coffee table book. It would be nice to have a travel, pocket version of it as well.
This is amazing book though, and it would make wonderful gift especially for a Vegan person. It will inspire and help plan the next amazing vacation.
This guide is an excellent source of information.
General rating: ★★★★★
Thank you  http://teneues-books.us for a copy.
 * Disclaimer: The opinion expressed in the review is my own and honest viewpoint. I was not required to write a positive statement.