Those Eggless muffins are an excellent breakfast idea.
They are easy to make and you can experiment with all kind of ingredients. I am showing you my recipe, but you can add vegan ham, or mushrooms, if you would like.
Ingredients:
1 cup of Just Egg egg liquid.
1/3 cup of GF flour (I used Bob's Red Mill GF flour)
2 cups of spinach
half of red bell pepper
half of small onion
chives
tomato
salt, pepper ,
nutrition yeast
your choice of vegan cheese alternative: mozzarella, ricotta, parmesan
Directions:
Preheat oven to 350F and line with baking cups.
In a medium bowl, whisk together JUST Egg, salt, pepper, nutrition yeast.
Sauté spinach and onion. Put aside, till it cools off.
Chop bell pepper, chives, tomato
Mix all the ingredients and cooled spinach, into JUST Egg mixture.
Add your choice of cheese and stir. (You can also sprinkle the cheese on top of the muffins instead).
Add flour and stir everything together.
Fill muffin tins ¾ of the way full with JUST Egg mixture.
Optional-sprinkle the muffins with cheese.
Bake "Egg" muffin for 20 min or till the center is firm.
Cool off and serve.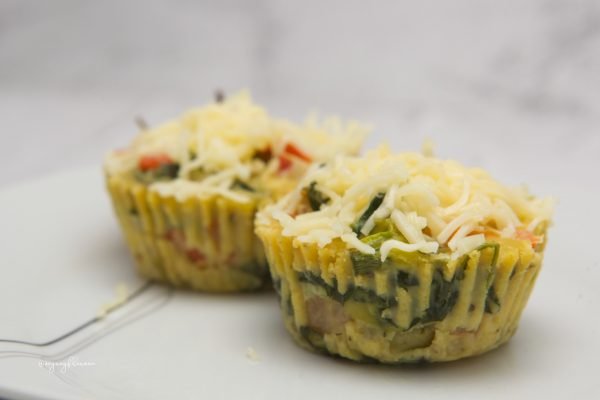 Enjoy!