My friend showed me how to make Empanada. I modified it to my taste. 😉 It is so delicious!
Empanadas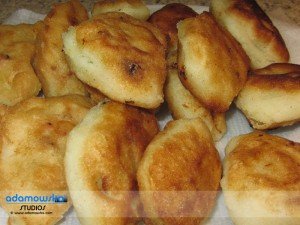 Ingredients:
corn flour dough PAN (It is yellow bag you can find in almost every store)
potatoes
onion
carrots
broccoli
mushrooms
(basically any veggie you like. I used handful of frozen veggies.I let them get into room temperature before adding to the rest of the mix.)
salt,pepper,
olive oil for frying
Directions:
Cook potatoes and when they are ready mushed them.Add shredded carrots, cut veggies, salt,pepper.
Prepare dough according to the directions on the package. (Basically add water to the flour and just make a dough. Make sure it is not to hard and not too sticky).
Form a flat circle,put mixed veggies (if you are using fresh veggies you may have to cook some of them-like broccoli, cauliflower etc.before you add them to the potatoes), close the dough and fry on high-heat oil.
Empanadas are ready when they are gold from both sides.