Very easy recipe for zucchini coated in vegan, gluten free Panko- breadcrumbs . It can be served as appetizer, but also as a main dish with rice,or pasta and other veggies.
Fried Zucchini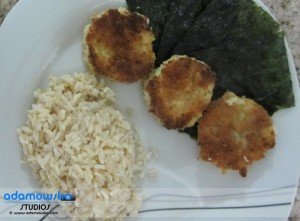 Ingredients:
1 zucchini
egg replacer (I used ener-g egg replacer, Follow direction on package).
Panko- breadcrumbs Italian (I used Panko by Ian's.)
oil for frying
Directions:
Wash, peel zucchini. Cut in thick slices. Coat in egg replacer (first mix it with water as directed). Than coat in Panko. Fry on hot heat till gold brown.Serve. (I ate it with rice and seaweed. I love seaweed).
Enjoy!