Yuca can be consumed boiled or fried. Either way it must be properly prepared before consumption. Improper preparation of yuca can leave enough residual cyanide to cause acute cyanide intoxication and goiters, and may even cause ataxia or partial paralysis.

Fried Yuca maybe doesn't belong to healthiest options ,but sometimes we can commit the sin and have something fried. To me fried yuca reminds of french fries.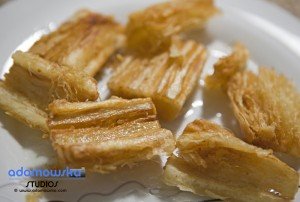 Ingredients:
yuca
salt
Pill of carefully yuca. Cut it at half. Take the inside of it out. (The line that runs through it. Make sure to take it all out. Don't consume it!) Cut to smaller pieces. Put into water and put some salt for taste. Boil. When it is soft take it out from water. (Make take 45min). Let it cool of a little bit and let the water go away.
Now to make "wooden sticks" put cooked pieces of yuca into hot oil. Let it fry till yuca changes color to brown. Take them out from oil, let it cool off.
As you can see I call them "Wooden Sticks" because of the appearance and texture of fried yuca. It just looks like piece of wood.