I just made up a new dish. 🙂 It is not perfect,it just need a little bit of polish but it taste good!
MY FIRST QUINOA BURGERS (version 1)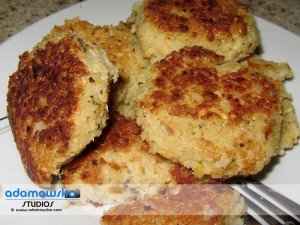 Ingredients:
1 and 1/2 cups of cooked Quinoa (follow directions on the package)
1/2 cup chopped onion
3 cloves of garlic
1 can (12ounces) chickpeas- drained
2 teaspoon of Gluten Free Oat flour
handful of pumpkin seeds (you can add more if you like)
4 tabelspoons of hemps seeds
salt
pepper
basil
olive oil for cooking
In food processor add onion and garlic-chop. Add the chickpeas and mix well. Remove it into another bowl,add cooked quinoa and stir. Add flour, seasonings, mix well. Than put it into the fridge for about 20min.
After that form burgers and cook them on medium heat for about 5 min. (They will become brown). Turn them over and cook for additional 5 min-10min. Add oil if necessary.
Let it cool for 5 min. before serving.
You can serve it with bun,lettuce,tomatoes,or with mashed potatoes and some salad.