As a child my mom used to make similar bars, but shaped in a ball. This is quite sweet treat but addictive as well.
My version is changed to vegan. I am not sure what I should call those bars, so for now they are just No-Bake Bars. (You can leave a suggestion in the comments for a name 😉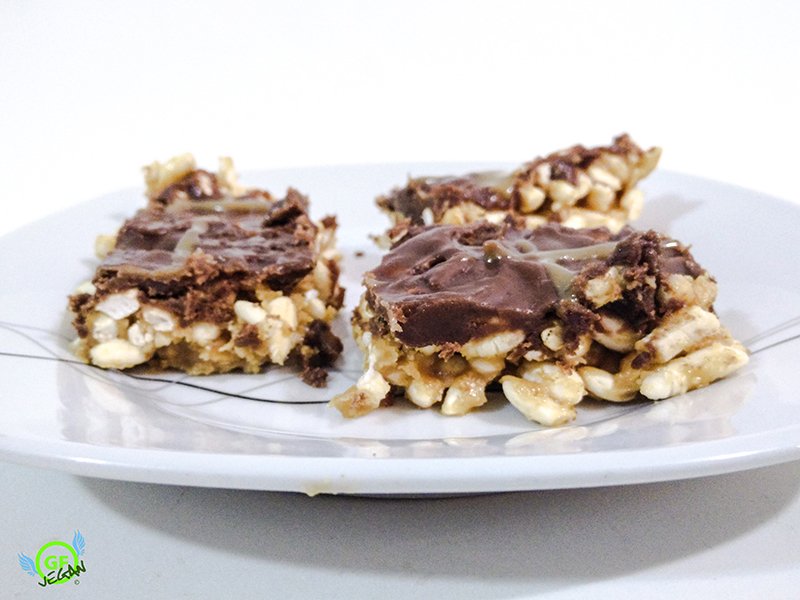 No-Bake Bars
Ingredients:
3/4 cup of caramel sauce (recipe here)
2-3 spoons of peanut butter
3/4 cup of shredded coconuts (optional)
3 cups of prepared rice ( gluten-free crispy rice cereal are the same thing)
1 cup semi-sweet chocolate chips
Directions:
Spray a 9×13 pan with nonstick cooking spray. Set aside.
Put caramel sauce into pan and stir it on low heat (unless you made fresh caramel sauce, than just put the right amount into new pan).
Stir in the peanut butter until well mixed.
Stir in crispy rice cereal until all of the cereal is well coated.
Add shredded coconuts (if using them).
Scoop mixture into pan. Set aside.
7. Melt chocolate chips over medium heat in the pan.
8. Spread chocolate mixture over the first mixture in pan. Let cool until firm, then cut into bars. (You can put it in the refrigerator for a little bit).