Who said you can't have vegan scrambled eggs for breakfast? 🙂 There are many recipes out there for scrambled tofu. I learn how to make it from my friend.
Here is how we do it:
Scrambled Tofu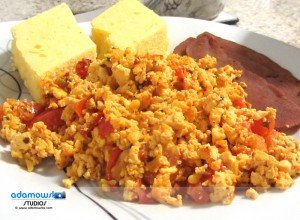 Ingredients:
firm or extra firm tofu
half of onion- chopped (you can use more if you like)
2 cloves of garlic- peeled and smashed
1-2 tomatoes (for you taste)- chopped
1 bag of Sazon Goya seasoning (it will give nice color to the dish)
salt and pepper for taste
oil for cooking
You can also add basil, or mushroom. Be creative. 😉
First pour oil on frying pan and heat it up. Add onion and garlic. When they are ready crush tofu into pan. (Make sure to wash it,and squeeze the water out of it before you do it).
Add tomatoes, seasoning, and stir it carefully. Let the tofu become dry, stir frequently to not burn it.
You can serve it with vegan Smart Bacon (it contains wheat! Really bad news for me).
And vegan,gluten free corn bread (for the recipe for easy version- go here).