This is cheating here but you need to start somewhere, somehow. 😉
Gluten Free Corn Bread
I used yankee cornbread and muffin mix by Glutino. The directions are on the back of the box,but I had to make few modification for vegan version.
Directions are like follow: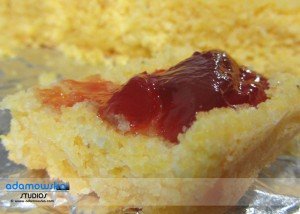 1 bag of yankee cornbread & muffin mix
1 1/3 cups low-fat buttermilk (vegan version- for every 1 cup of buttermilk use 1 cup of soy milk ,plus 2 tbslp of lemon juice. Let sit aside for 5 min).*
1 egg lightly beaten (vegan version- use an egg replacement of your choice.Follow directions) **
6 tbsp melted butter *** (vegan version- I used soy butter).
Preheat oven to 425F. Lightly grease an 8X8 inch pan. Combine mix and sugar. Add wet ingredients and mix to moisten. Pour into pan and bake 25 min or until top is golden.
Serve warm.
(You can serve with butter or jam as well).
*1 cup buttermilk = 1 cup soymilk with 2 Tblsp lemon juice allowed to sit 5 minutes
** use Ener-G egg replacement. For every 1 egg- use 2 teaspoons of egg replacement mixed with 2 tablespoon of hot water.