"The Art of the Smoothie Bowl:
Beautiful Fruit Blends for Satisfying Meals and Healthy Snacks" by
Nicole Gaffney
I was super excited when I received a copy of this book from the publisher Page Street Publishing Co. For the beautiful, mouth-watering photography alone, this book is a great addition to your cookbook shelf.
Beautifully designed, with gorgeous photos of delicious smoothies and more, this book is an excellent source of healthy recipes. You will be able to create colorful, refreshing and nourishing smoothie bowls.
Why are smoothies and smoothie bowls so popular? As the author stated in her introduction:
Smoothies are delicious way to drink all sort of nutrients. Now I am seeing the focus shift more and more to smoothie bowls, and I think it is because they're just more interesting to eat – not to mention their gorgeous appearance.
Plus eating smoothie bowls is a great way to incorporate more fresh fruits and vegetables into the diet.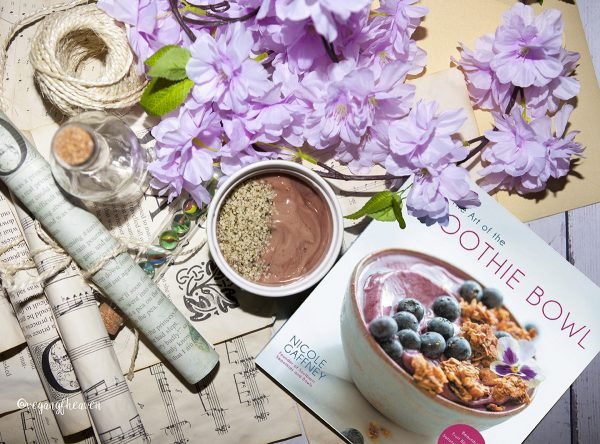 Not all recipes included in the book are vegan, but it is very easy to substitute the ingredients. (Or skip it entirely).
All recipes are straight forward, and they don't call for many ingredients. They are quick to prepare.
The author also gives tips, where to start, what to prepare, how to prepare fruits for smoothies.
There are recipes for all kind of smoothie bowls, but also for nice cream and homemade toppings. Some are sweet, some savory, some exotic- there is a smoothie for every preference.
Among many recipes there are:
• Classic Acai
• Starry Night
• Green Head
• Passionate Papaya
• Southern Peach & Pecan
• Carrot Cake
Among nice cream recipes, you can find:
Chocolate Peanut Butter Cup
Chocolate Hazelnut
Monkey Business
Toasted Coconut Carmel
As a person who makes smoothies quite often (smoothie bowls less often ;-), I was surprised, by some of the added ingredients. F.ex. I didn't think before adding coffee to my smoothie. But now I think it is a great way to start your day with coffee infused smoothie bowl. 🙂
Also, I never thought to make a smoothie bowl with zucchini or cauliflower. I definitely have to try it.
There are also ingredients that I would never personally add to my smoothies, like collagen or bacon, nor would I use a substitute. This sounds like a strange ingredient to add to a smoothie if you ask me.
Besides a few recipes, I am not a particular fan of, they sound delicious and look gorgeous. And there is no limit to your imagination. You can mix whatever fruits you like, and top it with whatever ingredients you wish. You will end up with a rainbow dish, that tastes wonderful and is healthy.
Smoothie bowls are great for breakfast, or snack, or as a refreshment dish. You can even mix smoothies with your favorite vegan ice-cream.
This book is really great source of amazing recipes, that will help you to create delicious and Instagram worthy photos.
I know that I will be going back to it over and over again, to find next great smoothie bowl recipe.
Grab your copy today! The possibilities are endless!
General rating: ★★★★★
Thank you Page Street Publishing Co. for a review copy of this book.
 * Disclaimer: The opinion expressed in the review is my own and honest viewpoint. I was not required to write a positive statement.